DoubleX Gabfest: The Crazypants Edition
Listen to Slate's show about the Wal-Mart gender discrimination suit, Michele Bachmann's potential run for president, and Tina Fey's book Bossypants.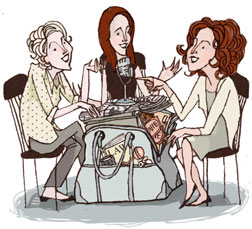 To listen to the DoubleX Gabfest, click the arrow on the player below.
In this week's gabfest, DoubleX founding editor Hanna Rosin, managing editor Jessica Grose, and editor Nina Shen Rastogi discuss the Wal-Mart gender discrimination suit Dukes v. Wal-Mart, Michele Bachmann's viability as a presidential candidate, and the feminism in Tina Fey's new memoir, Bossypants.
The DoubleX weekly "coffee talk" endorsements:
Nina Shen Rastogi recommends "A Murder Foretold," David Grann's great piece about murder and political conspiracy in Guatemala in this week's New Yorker.
Jessica Grose is binging on the AMC series Breaking Bad, about a chemistry teacher in New Mexico who discovers he has cancer and ends up cooking meth to defray the cost of treatment. She recommends watching it in three-to-four-episode chunks before it returns this summer for Season 4.
Here are some links to other things we discussed this week: