DoubleX Gabfest: The Evil Cinderella Edition
Our editors discuss women and the Egyptian protests and Slate's Home Economics series, and interview Cinderella Ate My Daughter author Peggy Orenstein.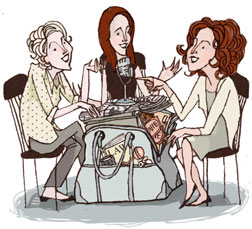 To listen to the DoubleX Gabfest, click the arrow on the player below. You can also download the audio file here or subscribe to the DoubleX podcasts feed via iTunes or directly with our RSS feed.
In this week's gabfest, DoubleX founding editor Hanna Rosin, managing editor Jessica Grose, and editor Kate Julian discuss women's role in the Egyptian protests and Jessica's new Slate series "Home Economics," which is about how couples manage their money. They also interview Peggy Orenstein, the author of the new book Cinderella Ate My Daughter: Dispatches from the Front Lines of the New Girlie-Girl Culture.
The DoubleX weekly "coffee talk" endorsements:
Jessica Grose recommends The Role of a Lifetime, the PBS documentary about Nancy Reagan that airs this Sunday, Feb. 6 at 10 p.m. She wanted it to be a bit more campy and less educational, but at least they talked about Nancy's commitment to astrology.
Kate Julian gives kudos to Jerome Groopman's "The Peanut Puzzle" in this week's The New Yorker (subscription only), because it made her reexamine the way she thinks about children and allergies.
Hanna Rosin is loving Vivian Maier's photographs. Maier was a Chicago street photographer and nanny whose work was recently rediscovered.
Here are some links to the things we discussed this week: