DoubleX Gabfest: The Nietzsche and Nirvana Edition
Our editors discuss Jared Loughner's parents, yoga and the female midlife crisis, and Caitlin Flanagan's "Hazards of Duke" from the Atlantic.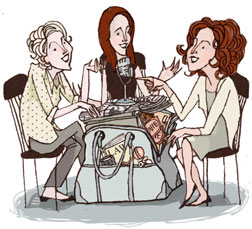 To listen to the DoubleX Gabfest, click the arrow on the player below.
In this week's gabfest, DoubleX founding editors Emily Bazelon and Hanna Rosin and managing editor Jessica Grose discuss the statement from the parents of Jared Loughner, Rep. Gabrielle Giffords' alleged shooter.  They also talk about Claire Dederer's yoga memoir, Poser, and the new female midlife crisis, along with Caitlin Flanagan's "Hazards of Duke" essay in the Atlantic about the so-called "Duke Fuck List."
The DoubleX weekly "coffee talk" endorsements:
Here are some links to the things we discussed this week:
Correction, Jan. 13, 2011: The original version of this article got Dylan Klebold's name wrong. (Return to the corrected sentence.)