DoubleX Gabfest: The Book Club
Slate's DoubleX Gabfest on the new translation of Madame Bovary.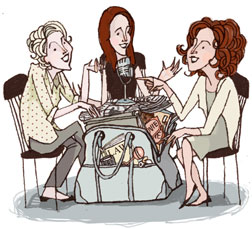 To listen to the DoubleX Gabfest, click the arrow on the player below. You can also download the audio file here or subscribe to the DoubleX podcasts feed via iTunes or directly with our RSS feed.
In this week's gabfest, DoubleX's Emily Bazelon and Hanna Rosin, along with The New Yorker'sMargaret Talbot, discuss Lydia Davis' new translation of the 19th-century classic Madame Bovary by Gustave Flaubert. All agree that the jacket copy describing Bovary as the "original desperate housewife" is crude but totally accurate. Rosin marvels at the scene where Bovary and her lover ride around in a sealed carriage. Talbot is horrified by the club-foot incident. Bazelon asks whether we are really supposed to find nothing redeeming in these narrow bourgeois caricatures. Bazelon is also exceedingly excited by the death by poison finale.