DoubleX Gabfest: The Mercurial Mommy Edition
Slate's DoubleX Gabfest on Sarah Palin's endorsement power, palliative care, and Jennifer Aniston's rom-com woes.
To listen to the DoubleX Gabfest, click the arrow on the player below. You can also download the audio file here or subscribe to the DoubleX podcasts feed via iTunes or directly with our RSS feed.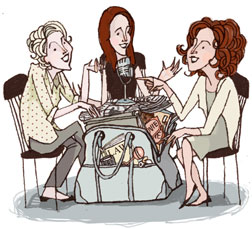 The DoubleX Gabfest weekly "coffee talk" endorsements:
Jessica Grose: The Investigation Discovery show Who the (Bleep) Did I Marry?, which airs on Wednesdays at 10 p.m. The show tells true stories about people whose spouses were leading double lives.
Here are some links to things we discussed this week:
Atul Gawande's fantastic, upsetting New Yorker story on end-of-life care, "Letting Go."