DoubleX Gabfest: The Happiest Clams Edition
Slate's DoubleX Gabfest on a Pew gender equality study, the New York cover story about why parents are unhappy, and The Real L Word.
To listen to the DoubleX Gabfest, click the arrow on the player below. You can also download the audio file here or subscribe to the DoubleX podcasts feed via iTunes or directly with our RSS feed.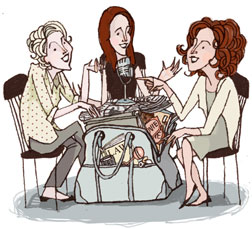 The DoubleX Gabfest weekly "coffee talk" endorsements:
Nina Rastogi's pick: George R.R. Martin's fantasy saga, A Song of Ice and Fire. The first book in the series: A Game of Thrones. According to Nina, it's the perfect beach read and has strong female characters.
Here is a list of other articles mentioned in the Gabfest: