DoubleX Audio Book Club: The Three Weissmanns of Westport
Our critics discuss Cathleen Schine's new novel.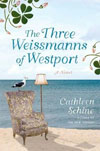 You can also download the audio file here  or subscribe to the DoubleX podcasts feed via iTunes or directly with our RSS Feed.
This month, the DoubleX audio book club discusses The Three Weissmanns of Westport, the latest novel of Cathleen Schine, author of Rameau's Niece. A chick-lit update of Jane Austen's Sense and Sensibility, the novel follows the fate of Betty Weissman, recently divorced by her husband of 48 years, and her two daughters, whose lives are also falling apart in various ways. A Jewish patriarch loans them his cabin where they run into various unlikely characters: a soap opera star, a massage therapist, a famous author.
Hanna Rosin discusses whether there is such a thing as high chick lit. Margaret Talbot admires Schine's decision to make the older Betty the most compelling character and focus on older women in general. Emily Bazelon muses about the relationship between the sensible and the overemotional sister. Other books to which the Gabfesters compare Schine's novel include Helen Fielding's Bridget Jones's Diary and Marilynne Robinson's Housekeeping. All agree the novel is an enjoyable beach read but one they would not recommend to their husbands.
DoubleX podcasts appear every other Thursday. Become a fan of the DoubleXGabfest on Facebook. On April 7, we will be back with another news Gabfest.