Invent Your Future
Top Chef winner Stephanie Izard and other highlights from Slate's Chicago panel on entrepreneurship.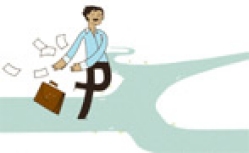 In January, as the culmination of the "Invent Your Future" project, Slate and our sponsor Liberty Mutual hosted a discussion about entrepreneurship with four fascinating Chicago businesspeople. In a packed Murphy Auditorium, Stephanie Izard, chef and co-owner of The Girl and the Goat and winner of Bravo's Top Chef Season Four; Dominique Raccah, CEO and publisher of Sourcebooks, Inc.; Kevin Willer, co-founder of Google's Chicago office and president and CEO of the Chicago Entrepreneurial Center; Sherman Wright, co-founder and managing partner of Commonground Marketing; and I talked about the challenges and joys of starting a business. Here are some of the highlights.
TODAY IN SLATE
The Extraordinary Amicus Brief That Attempts to Explain the Wu-Tang Clan to the Supreme Court Justices
The Human Need to Find Connections in Everything
It's the source of creativity and delusions. It can harm us more than it helps us.