Where Are Gas Prices Going Up Fastest?
A map of gas price hikes.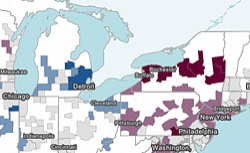 Generally, global prices for crude oil drive gas prices in the United States. But regional variations in supply mean drivers in some metropolitan areas have seen sharper price hikes than others this year. Cities in the West, where many refineries have shut down for repairs, have seen the worst hikes, especially Seattle, Phoenix, Colorado Springs, and Denver. Honolulu, which already had the highest gas prices in the country, saw the biggest hike of all—a 27-cent increase. Meanwhile, prices improved slightly in the Midwest, with Kansas City enjoying the greatest price relief at 13 cents.
Drag the map to see Alaska or Hawaii. Double-click to zoom in.