The Life of a Male Figure Skater
The pouty, glittery Be Good Johnny Weir.
On "Hang Up and Listen,"Slate's sports podcast, Stefan Fatsis, Josh Levin, and Mike Pesca discussed Johnny Weir. To listen, click on the audio player below. You can also download the file here.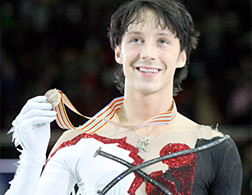 Any ink spilled on Johnny Weir, the fabulous and frustrating figure skater, must include the following: He started skating at the nearly geriatric age of 12 and practiced on frozen-over cornfields in his native Lancaster County, Pa. He won't confirm his homosexuality, but the woman's name to which he's most frequently linked is Camille, the moniker he gave to the single red glove he wore during "The Swan," his 2006 short program—the glove representing the beak of said waterfowl, topping off a typically sparkly ensemble. He has walked in a Heatherette show and once appeared in BlackBook wearing high heels, sans shirt. He wore a Russia warm-up jacket —he loves Russia!—while representing the United States at the Winter Games in Turin, Italy. His longtime rival, since they were teenagers, is Evan Lysacek, who dates hot ladies and whose skating style is masculine and jump-oriented; Weir, who focuses on artistry, is an inconsistent jumper, sometimes singling his triple axel. (Both fell short in the recent U.S. Figure Skating Championships, with Lysacek coming in second and Weir in third behind Jeremy Abbott.) Perhaps Weir's most famous performance outside of skating circles is his interpretation of Lady Gaga's "Poker Face," which the Best Week Ever blog called"the gayest thing you will ever see":
There. That's all out of the way.
Weir has now taken his act to the small screen. The promos for Be Good Johnny Weir (Sundance, Mondays at 10:30 p.m.) have been all sparkles, but the show itself—kicked off this week with the documentary Pop Star on Ice, which followed Weir for two years—is sulky and grumpy. Beneath the many furs and ass swivels, Weir is an athlete in crisis. His body is breaking down. He's not winning like he used to. He comes across as a sullen malcontent as his entourage tries mightily to keep him cheered up and focused. And if Best Week Ever thought that Weir's skating to Lady Gaga was gay, well, clearly those editors hadn't seen Weir relaxing in a bubble bath, in a blond bob wig, sipping Champagne, with his (male) best friend and roommate, Paris.
Figure skating, of course, has seen spectacular flameouts and dramas: the Harding/Kerrigan soap opera, followed by Harding's boxing stint; Oksana Baiul's struggle with alcohol; Nicole Bobek's struggle with meth (those '90s ice stars were a rebellious bunch). Weir is still among the top male figure skaters, but he seems over it. In the first few episodes of Be Good Johnny Weir, we see Johnny change coaches, attempt to return to fighting form after an illness in Korea, deal with skates that don't quite balance properly, suffer fits of indignation, and rail against the officials of skatingdom. He muses about giving up skating altogether, says he hates his time on the ice, and wonders whether he should learn to make a latte.
During his career, skating has changed judging systems, from a more subjective 6.0 scale to a points system that is more focused on technical elements, but you still have to curry favor with the officials—and perhaps the only thing Johnny hates more than the fact that the new scale doesn't leave room for the more artistic elements he likes to perform is the sucking up. Pop Star on Ice shows him getting reprimanded by the powers that be after he let fly a drug-reference-laced comparison of the audience reaction to his performance versus a competitor's, saying: For his, "they kind of sat back and had their cognac and cigarettes and they were relaxing and watching, and his was more like a vodka shot, let's-snort-coke kind of thing." Faux-collegial athletes, particularly those from image-conscious disciplines like skating and gymnastics, tend to make noises about hoping everyone does their best, but after one bad performance at Nationals, Johnny says "I have to pray that they all fail," referring to his competitors. Following another disappointment, when he came in third, he tells the press, "I knew I could have easily won, and it wouldn't take anything close to my personal best to win this. …"
Between these moments of pique, Johnny can be fun, particularly when he's indulging in a little vulgarity. Asked to explain the different dynamics of his relationships with his hard-ass coach and his put-upon agent, he says, "Tara, I can put my face 10 inches into her boobs and she's fine. Gallina, I cannot imagine being anywhere near that bosom." And, in a weirdly lengthy segment, he talks about some little-known side effect of tanning: "From tanning, I have these white marks on my butt, and when I flex my ass cheeks together, it makes a little heart. See them? And then when I go whoop! It turns into a little heart." Of course, he flashes most of his butt while going whoop!
If you don't follow male figure skating, Johnny Weir may seem like a flaming cliché, but that's not how the figure skating officials want you to see male figure skaters. The sport has long been preoccupied with the perception of its manhood. In Christine Brennan's Inside Edge (all figure-skating book titles must include a pun on either "ice" or "edge," a reference to the skater's blades), a coach frets that then-up-and-coming (and long since arrived) skater Michael Weiss would flee the sport because of the behind-the-scenes predominance of gay men. During competition, however, officials don't favor over-the-top flamboyance. I suspect those officials are watching the glittery promotions for Be Good Johnny Weir with vodka shot in hand. Perhaps it would have been better for Weir if the show debuted after the Vancouver Olympics, where the judging panel will be even more annoyed with him than usual. Since their wild child thrives on pissing them off, I suspect it's just a matter of time before Weir goes whoop! and flashes a little butt on-ice.