Old Made New
Was Robert Frost a Modernist?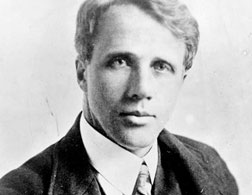 Robert Frost
Is Robert Frost (1874-1963) a modern poet? Or, in an academic refinement of the term, is he a Modernist?
On the "no" side of that question, it's true that works like "The Road Not Taken" do not unsettle or revise any 19th-century notions of form or idea. Compared with such poems, work by Frost's elder (and, to some degree, his model) Edwin Arlington Robinson (1869-1935) may be more disruptive and skeptical.
On the other hand, Frost's greatest poems, such as "Directive" and "The Most of It," do radically challenge and reimagine old conceptions of memory, culture, and ways of beholding nature. Like the distinctly Modernist poets T.S. Eliot, Marianne Moore, Ezra Pound, and William Carlos Williams—a half-generation younger—Frost was formed to some extent, when very young, by the late-Romantic taste of anthologies like Palgrave's Golden Treasury. (Williams says he more or less memorized the entire book.) In his own, quiet way, Frost too questions and challenges his pre-modern ancestors, represented by the 19th-century taste of Palgrave's.
This question of categories is interesting not in itself but because Frost himself thought about it. Even in A Boy's Will, his first book (first published in England, when the poet was 40 years old) Frost questions or discards (or laments?), the terms and manners of the generations that preceded him. In "Mowing," for example, the dream of work presents a more urgent and attractive mystery than "easy gold at the hand of fay or elf":
"Mowing"
There was never a sound beside the wood but one,
And that was my long scythe whispering to the ground.
What was it it whispered? I knew not well myself;
Perhaps it was something about the heat of the sun,
Something, perhaps, about the lack of sound—
And that was why it whispered and did not speak.
It was no dream of the gift of idle hours,
Or easy gold at the hand of fay or elf:
Anything more than the truth would have seemed too weak
To the earnest love that laid the swale in rows,
Not without feeble-pointed spikes of flowers
(Pale orchises), and scared a bright green snake.
The fact is the sweetest dream that labor knows.
My long scythe whispered and left the hay to make.
Click the arrow on the audio player below to hear Robert Pinsky read "Mowing." You can also download the recording or subscribe to Slate's Poetry Podcast on iTunes.
The scythe, explicitly presented as a practical tool rather than a symbol, retains some of its traditional association with mortality. Similarly, the bright green snake is a bright green snake rather than a token of original sin—yet the creature is nevertheless "scared" by the scythe. The literal meaning of "orchises" is "testicles." Observing the snake's behavior, knowing the word's history: These are matters of information, as well as imagination—in a certain sense, factual. The poem takes pleasure in showing how fact is more evocative, more profoundly rich in associations, than the "easy gold" of allusion or myth. The uncertainty of hearing the scythe whisper "[s]omething, perhaps, about the lack of sound" is a more commanding mystery than "the gift of idle hours."
Another poem in A Boy's Willl, "Pan With Us," acknowledges a changed, modern world with a little more nostalgia for the old mythological creatures of poetry. The pathos of grayness in the second line—almost a cinematic dissolve of the old pipe-playing, sexual, half-animal creature—justifies and animates the grammatical inversion of the following line: "The gray of the moss of walls were they," which, like the poem, is partly a lament for old ways and partly a parody of them:
"Pan With Us"
Pan came out of the woods one day,—
His skin and his hair and his eyes were gray,
The gray of the moss of walls were they,—
…And stood in the sun and looked his fill
…At wooded valley and wooded hill.
He stood in the zephyr, pipes in hand,
On a height of naked pasture land;
In all the country he did command
…He saw no smoke and he saw no roof.
…That was well! and he stamped a hoof.
His heart knew peace, for none came here
To this lean feeding save once a year
Someone to salt the half-wild steer,
…Or homespun children with clicking pails
…Who see so little they tell no tales.
He tossed his pipes, too hard to teach
A new-world song, far out of reach,
For a sylvan sign that the blue jay's screech
…And the whimper of hawks beside the sun
…Were music enough for him, for one.
Times were changed from what they were:
Such pipes kept less of power to stir
The fruited bough of the juniper
…And the fragile bluets clustered there
…Than the merest aimless breath of air.
They were pipes of pagan mirth,
And the world had found new terms of worth.
He laid him down on the sun-burned earth
…And ravelled a flower and looked away—
…Play? Play?—What should he play?
Click the arrow on the audio player below to hear Robert Pinsky read "Pan With Us." You can also download the recording or subscribe to Slate's Poetry Podcast on iTunes.
The last line echoes a nursery rhyme ("Sing, sing, what shall I sing?/ The cat's run away with the pudding-string …"). That closing, along with moments like "He tossed his pipes, too hard to teach/ A new-world song, far out of reach," leads me to hear the poem as wondering how to make poems for the modern world (or the American world?)—with an implicit vow to try.
MYSLATE
Former Poet Laureate Robert Pinsky is Slate's poetry editor. His Selected Poems is now available.
For Slate's poetry submission guidelines, click spacerhereyeshyperlinkPoetry SubmissionsSlate reads new poems from Oct. 1 to April 30. Manuscripts sent between May 1 and Sept. 30 will not be considered.To submit poems: Send, as a single attached document, up to three poems of no more than 50 lines each to editors@slatepoems.com. Use the poet's name for the subject line of the e-mail and for the title of the attachment. We prefer Word documents (.doc or .docx) to PDFs.Please include a brief, professional cover letter, including publication history, in the body of your email. Please limit submissions to one per poet per annual reading period. Simultaneous submissions are OK. Slate no longer accepts poetry submissions by mail. The email address editors@slatepoems.com is for poetry submissions only (or to notify editors of acceptance elsewhere of a poem under consideration at Slate). Other inquiries, etc., will not be addressed.10000false220061444537PMWednesdayJanJanuary161/4/2006 9:45:37 PM63271989937000000020061444537PMWednesdayJanJanuary161/4/2006 9:45:37 PM632719899370000000.Clickhere to visit Robert Pinsky's Favorite Poem Project site.Click here for an archive of discussions about poems with Robert Pinsky in "the Fray," Slate's reader forum.