Fashion Photography
Once you've shot beautiful models using fancy equipment, there's no going back to snapshots of friends.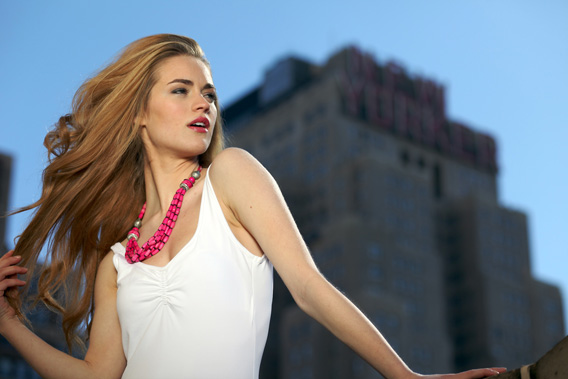 Last fall, two friends, Bree and Pam, asked me if I'd be the photographer for their new fashion startup, Nesh NYC. It seemed like a bad idea. I warned them that my experience was limited. (My portfolio of portraiture was limited to shots of my wife looking patient as I fiddled with lights.) But they were serious, so I signed up. As I saw it, the challenge was this: Could an amateur photographer create good-enough images using basic equipment, the kind of thing you can find on Amazon or at New York's B&H photography store? We aimed to find out.
Of course, some misgivings aside, I was very excited about the idea. Admittedly, many men might be drawn to the chance to play with fancy gear surrounded by beautiful women in tight clothing. But after a decade of dabbling I was also interested in what might be called the photographer's equivalent of the "big game hunt." Fashion photography is a photographic extreme that demands some of the best equipment and skills. What's more, I was drawn to the idea of photography without compromise. Yes, there is much to be said for dealing with reality and loving humanity's imperfections. But the fact is that taking artistic photos of middle-aged friends can be like squeezing blood from a stone. I think that's why people take so many photos of their dogs. Instead of a quest for hidden beauty, why not a more direct approach? Put on a fancy lens, rig some expensive lighting, sign up a professional model and let it rip. Anyhow, that's what drew me in.
"Yoga clothes you can wear with heels" is how one recent article describes the Nesh clothing line. The idea is to design clothing that woman can wear to a yoga class and then, say, go out for a cocktail without feeling like a slouch. (Nesh solves a problem I personally haven't spent much time thinking about, but I get the idea.) Two of the three founders, designer Bree Chambers and manager Pam Elden, both veterans of the fashion industry, came up with their idea while training in yoga instruction. I'm surely biased, but to me, their clothes look terrific on everyone who wears them. In particular, I like their pants modeled after motorcycle leathers, which have an edge lacking in the average leotard.
Where to shoot? While it may sound unlikely in an outsourcing age, Nesh makes all of its clothing in Manhattan, on 36th Street. In the offices is a room where the third co-founder, Connie Basile, oversees a group of men and women who are actually sewing clothing (an activity I wrongly thought had left New York City last century). The space was tight, but it would do.
To get ready I spent some time reading up on the technical sides of fashion photography (there is a lot of material online and off ) and then looking at clothing catalogs and magazines that I otherwise never read, like Vogue and Harper's Bazaar. There is a big difference, I realized, between the magazine spreads and, say, a J. Crew catalog. In the magazines and even advertisements, displaying the clothes isn't nearly as important as trying to capture "the mood." I noticed that you can't really tell where the shots are taken, with a few exceptions, but that the texture of the backgrounds can give shots a softer or harder feeling. I also noticed just how many shots are simply on a pure white background that is "seamless," which means you cannot see where the wall hits the floor.
I realized quickly that to take professional-looking shots I was going to need more lights and some way of creating that seamless white background. The prospect of buying new gear was exciting and terrifying at the same time. Like most photographers, my mouth waters when I think about specialized equipment. Unfortunately I also knew from experience that there is virtually no limit to the amount of money you can spend on lighting. Once you get excited about things like beauty-dishes, barn doors, softboxes, and snoots (I love the vocabulary of lighting) there is no end to it.
The "good stuff" costs thousands of dollars, but Nesh is a startup so we decided to go minimal and start with the cheapest stuff we could get away with. I had my own, decent monolights and softbox; we added some more Chinese monolights for about $150 each, umbrellas for $17 each, and a giant roll of paper that, unfurled, would create a seamless background, plus tripods to hold everything. Part of me was a bit embarrassed to buy the cheap stuff, but even at the base levels the prices added up quickly. Anyhow, I figured that if the photos didn't work out I could always blame the equipment.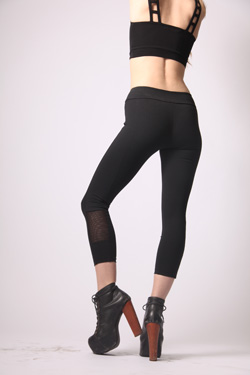 We were ready for a trial run, which we did with a friend named Rachel who is a Broadway actress and yoga teacher (her last role was in the Broadway production of Mamma Mia). Following online manuals, I set up the seamless wall, which required us to light both her and the wall simultaneously. We began to shoot and to my amazement, Rachel suddenly seemed to be floating in the midst of a cloud. That was the good part. But because I had overpowered the backlights, it also looked like she was wearing the cloud—her clothes were streaked white in the final photos. We had a long way to go.
We recalibrated, and scheduled our first effort to get shots good enough to use when the Nesh website launched. The model was a friend of Bree and Pam's named Arianna, a gorgeous actress/model who is half-Filipino and half-German. Within five minutes of starting the shoot I had learned an important lesson for any aspiring portrait photographer: Save money on lenses and hire a good model instead. A normal person looks absolutely terrific in about one shot out of 100, while Ari's ratio was more like one in three. Most people get nervous in front of cameras: Ari brought a kind of relaxed energy that was contagious. The shoot was fun and hypnotizing, though I was exhausted within in an hour.
With Ari we got a lot of good pictures but there were still problems, problems that made the photos look fairly amateur. I was having a terrible time trying to get the details of the black clothing to really jump out. And I realized it is very hard to shoot pants. No one should underestimate the challenge of capturing the perfect butt-shot.