The Best Jazz Albums of 2011
Wunderkind trumpeters, South Korean singers, and jazz that doesn't quite sound like jazz.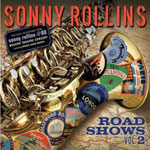 1. Sonny Rollins: Road Shows, Vol. 2 (Doxy). These live-concert tracks from Rollins in his 80th year, mainly from his 2010 birthday bash at the Beacon in New York City, find the saxophone colossus in stellar form, with a stripped-down band (his best in ages) and guest stars pressed to their peaks. Highlights are an endlessly rousing improv on "They Say It's Wonderful," trumpeter Roy Hargrove's lovely musings on "I Can't Get Started," and a joust on "Sonnymoon for Two" between Rollins and Ornette Coleman—the first time the two ever played together in public—that's awesomely otherworldly.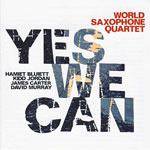 and the gorgeous title tune (a tribute to Obama) composed by David Murray and wailed on soprano by James Carter. Hamiet Bluiett's at his longtime post on baritone sax; Kidd Jordan's on alto.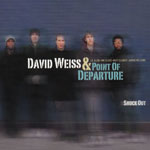 3. David Weiss & Point of Departure: Snuck Out (Sunnyside). Recorded live at New York's Jazz Standard (are great live albums the new trend?), this quintet, including Weiss on trumpet and J.D. Allen on tenor sax, is like something out of mid-'60s Blue Note, replete with covers of tunes by Andrew Hill and Wayne Shorter, as well as a couple of crisp originals. With free rhythms that remain tethered to structure, the music's tight and loose, knotty and limber, all at once.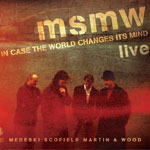 4. Medeski, Scofield, Martin & Wood: In Case the World Changes Its Mind (Indirecto). Rock-blues-jazz by masters who can play all three and fuse them in a way that preserves and heightens the low-down swing-jingle-jangle of all three instead of shmushing them into sludge, as most "fusion" bands do. Recorded on a live 2006 tour (yes, we have a trend), with guitarist John Scofield joining MMW's whirring keyboards, anchoring bass, and polyrhythmic drums, this two-disc CD is a heady funfest from start to finish. Sensationally well-recorded.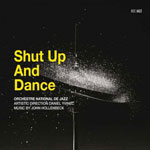 5. Orchestre National de Jazz / John Hollenbeck: Shut Up and Dance (Bee Jazz). Hollenbeck, a drummer-composer who has his own big band, wrote 12 pieces for this 12-piece French ensemble (enough for each musician to take a solo), and they play them like they own them: Complex, sometimes dissonant, swiftly shifting, always adventurous but also accessible music, these tracks are more hip-swaying than usual (hence the title).* Two discs, the first more consistently riveting than the second.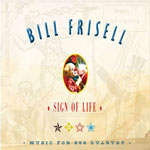 6. Bill Frisell: Sign of Life (Savoy). Is this jazz? John Zorn once defined "great Jewish music" as great music by Jews. Sign of Life (beautifully recorded, in a studio) is great music by jazz musicians, so by that standard, it's great jazz. Frisell plays guitar and is joined by his 858 Quartet mates, Jenny Scheinman (violin), Eyvind Kang (viola) and Hank Roberts (cello) It's chamber jazz, with strands of bluegrass and wistful minimalism: gorgeous, witty, and sometimes a bit heartbreaking.

7. Ambrose Akinmusire: When the Heart Emerges Glistening (Blue Note). The breakthrough album by the latest wunderkind trumpeter-composer, it's straight-ahead jazz: brash, boisterous, lyrical, with nice harmonic twists around most corners, and a band that's as tight as they come, especially the interplay between Akinmusire and tenor saxophonist, Walter Smith, who's been perfecting the art of reading the trumpeter's mind for a decade.