Muppets Most Wanted

The lovers, the dreamers, and Ray Liotta.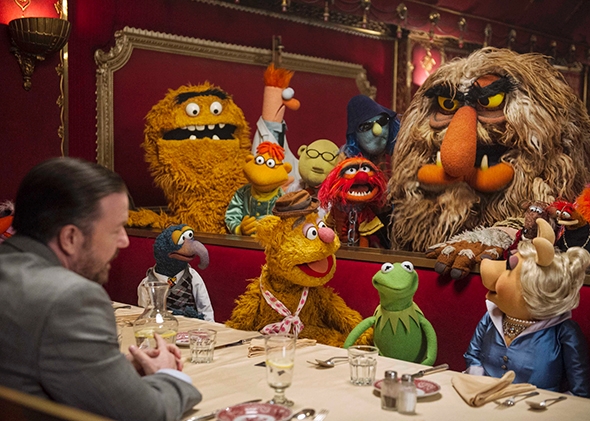 After you've seen Muppets Most Wanted, come back and listen our Spoiler Special with Dana Stevens and John Swansburg, or download it here:
"We're doing a sequel/ That's what we do in Hollywood/ And everybody knows/ That the sequel's never quite as good," sing a top-hat-and-tails-clad Kermit and Fozzie Bear in the opening number of James Bobin's Muppets Most Wanted. The self-referential pre-emptive putdown is a bold rhetorical move to attempt in the first minute of a movie whose predecessor, Bobin's high-spirited 2011 franchise reboot The Muppets, has already set the bar pretty high. Sadly, as the movie goes on, that lyric starts to sound less like a cheeky self-deprecating joke than like a bald plea for lowered expectations.
Muppets Most Wanted does something with America's most-loved felt-puppet entertainment troupe that's worse, in a way, than just crassly selling out their unique charm. It fails to understand that charm in the first place, to get what it is about Jim Henson's plucky vaudevillians that audiences love and want to see more of. There's something sour and strained about this movie that's at odds with the usual Muppet ethos of game, let's-put-on-a-show cheer. Maybe that's because of the inordinate amount of screen time spent on the rivalry between two villains who are as uninteresting as they are unpleasant. Ricky Gervais plays Dominic Badguy ("It's pronounced 'bah-JEE.' It's French."), the Muppets' shady new business manager, who signs them up for a world tour as a front for an elaborate scheme to rob the crown jewels of England. The mastermind of this plot is a Russian frog named Constantine (voice of Matt Vogel), a ruthless supercriminal who has just escaped from a Siberian gulag. Constantine is Kermit's exact double in every way except for a mole on his right cheek—which makes it simple for the evil frog to kidnap the good one, send him to the gulag in his stead, and pass himself off as the real (if suddenly mysteriously Russian-accented) Kermit. This early scene, in which Dominic and Constantine lay out the basics of their master-servant working relationship, gives a sense of Muppets Most Wanted's curious flatness.
What do we care about the power struggles between a greedy showbiz manager and a psychopathic frog crime boss who happens to resemble Kermit? Or about the fake Kermit's struggle to disguise his Russian accent, or to convince Miss Piggy that he's the same simple frog she once fell in love with? We came to watch the Muppets—the regular, nonevil doppelgänger ones—put on a show. Here, that activity is relegated to the background, with the scenic stops on the gang's European tour—Berlin, Madrid, Dublin, and London—providing an excuse for various jewel-heist-related, disappointingly Constantine-centric escapades.
Actors and figures from popular culture crowd the screen, popping up everywhere in secondslong, mainly wordless cameos: Tony Bennett, Lady Gaga, Toby Jones, Mackenzie Crook, Saoirse Ronan, Salma Hayek, Usher (playing an usher), and others. But unlike in the last Muppet movie, where the romance between Jason Segel and Amy Adams' characters constituted a major plot point, human actors in Muppets Most Wanted seem to exist mainly as brand signifiers of themselves—hey look, it's Chloë Grace Moretz as a Russian newsboy! It's Sean "Diddy" Combs as himself, partying with the Muppets in a train car! For the most part, the walk-on guests aren't afforded even a brief opportunity to interact with their cloth co-stars, making the parade of cameos feel like an empty game of spot-the-celebrity. Ty Burrell has one of the more substantial flesh-and-blood roles as a dim Parisian inspector who teams up with Sam the Eagle (Eric Jacobson) to investigate the jewel heist in progress; he does what he can with his meager jokes, most of which have to do with the length of European lunch hours and vacations.
The scenes where we join the real Kermit (voiced by Steve Whitmire) back at the gulag provide the most fun, both because the mild-mannered frog makes for better company than his dull villainous double and because Tina Fey, alone among the human actors, is in top form as Natasha, a by-the-books prison guard who's secretly in love with her pea-green captive. Fey sinks her teeth into her character's thoroughgoing silliness, Rocky and Bullwinkle–style Russian accent and all. Natasha, a musical-comedy fan unimpressed with the level of stagecraft in the prisoners' annual talent show, enlists Kermit to take over as director. This results in a few funny scenes in which the theater-savvy frog whips a company of hardened prisoners (including Ray Liotta, Tom Hiddleston, and Danny Trejo) into Broadway-ready shape, performing such numbers as "Workin' in a Coal Mine" and "I Hope I Get It" from A Chorus Line.
The original songs for the movie, written (like those for the last installment) by Flight of the Conchords' Bret McKenzie, bounce along pleasantly, but they don't stick with you—there's no "Man or Muppet?" or "Life's a Happy Song" to send you skipping down the street afterward. And maybe this is just me, but I preferred the Kermit/Miss Piggy relationship in its latency phase, when the importunate Piggy only occasionally bothered the reluctant frog with baby talk and kissy noises. I don't need to hear pig/frog commitment squabbles or flash-forward to their future offspring, a green piglet and a pink frog (wouldn't it be a tadpole?) being wheeled in a pram. Muppets Most Wanted was co-written by director Bobin and Nicholas Stoller, who also wrote the last installment with its star Jason Segel: a nearly identical team for two very different movies. Could it be that Segel, with his sweet, boyish energy and enthusiasm for puppetry, is the missing element, the keeper of the Muppet flame who needs to step back in for the next movie to keep the spirit alive? In the absence of Jim Henson, he'll have to do.