Meryl Streep Gets Thanked More Than God
Crunching the numbers on a decade-plus of Oscar acceptance speeches.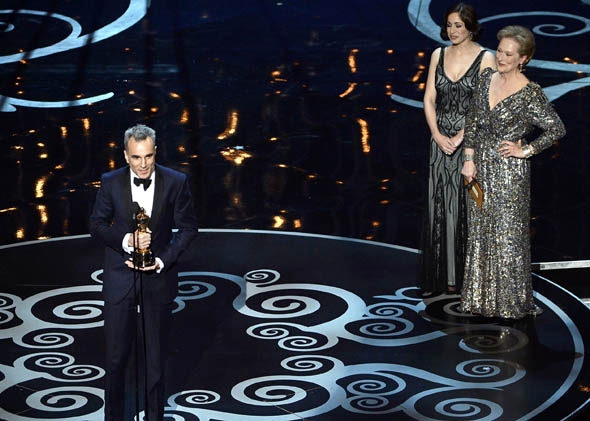 "This is nuts!" Jennifer Lawrence proclaimed a year ago on Oscar night, and truer statements have rarely been uttered in an acceptance speech. America's current sweetheart was shaken, having tripped on the way to the stage. Lawrence may be the casual salty reigning queen of any press room, where she regularly lets loose like a superhuman GIF-generating quote machine, but on Oscar night with all of her peers watching, she was closer to the traditional flustered princess. She forgot to thank her director David O. Russell and awkwardly ended with a "happy birthday" to her chief rival Emmanuelle Riva (Amour), who had turned 86 that very day. (Happy birthday, you lost!)
In Lawrence's defense, the acceptance speech is among the most difficult performances of an actor's life. The best speeches are a complex mix of reflection, gratitude, vulnerability, and humor while the "stick-man" (thanks, Julia Roberts) is threatening to play you off if you exceed 45 seconds … as most actors do. Daniel Day-Lewis provided a master class, hitting every single beat when he won for Lincoln—but he's had a lot of practice. Even when she won for Les Misérables last year, Anne Hathaway couldn't win with her critics; she was going for deep gratitude but was accused of unctuousness. She listed 23 names, 24 if you count her thanking her agent Josh Lieberman twice "to be safe." But with the heightened emotions an Oscar win brings, how do the stars ever remember who to thank—let alone thank them well?
First is best, of course. Agents may battle for top billing on their clients' behalf, but they rarely get it themselves on Oscar night—just one acting-Oscar winner recently, Tilda Swinton, thanked an agent before thanking anyone else. Last in the speech is also special; if you can't get top billing, make sure you get the "And …" spot that in a film's credits might be reserved for the biggest star of all. Christopher Plummer ended with a gorgeous, self-deprecating tribute to his wife, Elaine, "who deserves the Nobel Peace Prize for coming to my rescue every day of my life." Meryl Streep, on the other hand, thought this move too risky and placed Don Gummer first "because when you thank your husband at the end of the speech, they play him out with the music." Meryl's fears aside—really, who would ever dare play off Meryl Streep?—most winners end with a loved one, usually a spouse or child—even an unborn child. Catherine Zeta-Jones was very pregnant when she won for Chicago at the 75th Oscars ("My hormones are just too way out of control!") and ended by mentioning that she'd share the Oscar with her impending arrival.
The tool below allows you to see who was thanked in each actor's speech and when: first, second, third, in the rabble in the middle, or in that glorious final position.
| | |
| --- | --- |
| | won the Oscar for for a role in . |
Best Actor
Denzel Washington
Adrien Brody
Sean Penn
Jamie Foxx
Philip Seymour Hoffman
Forest Whitaker
Daniel Day-Lewis
Sean Penn
Jeff Bridges
Colin Firth
Jean Dujardin
Daniel Day-Lewis
Best Actress
Halle Berry
Nicole Kidman
Charlize Theron
Hilary Swank
Reese Witherspoon
Helen Mirren
Marion Cotillard
Kate Winslet
Sandra Bullock
Natalie Portman
Meryl Streep
Jennifer Lawrence
Best Supporting Actor
Jim Broadbent
Chris Cooper
Tim Robbins
Morgan Freeman
George Clooney
Alan Arkin
Javier Bardem
Christoph Waltz
Christian Bale
Christopher Plummer
Christoph Waltz
Best Supporting Actress
Jennifer Connelly
Catherine Zeta-Jones
Renee Zellweger
Cate Blanchett
Rachel Weisz
Jennifer Hudson
Tilda Swinton
Penelope Cruz
Mo'Nique
Melissa Leo
Octavia Spencer
Anne Hathaway
Whom Is Thanked Most Often?
The graph below illustrates the number of times Oscar-winning actors have thanked each type of entity since 2002. Each block represents an entity thanked, and its color represents the order in which it was thanked.
First Billing
Second Billing
Third Billing
Supporting Players
And Featuring
Certainly it's better to come last than to be forgotten entirely. It's perhaps ungenerous to remind them, but here goes: Best Actress and Million Dollar Baby Hilary Swank attempted to apologize to her husband, Chad Lowe, at the 77th Oscars for forgetting to thank him the first time she won, but she couldn't help but congratulate herself in the process: "I'm going to start by thanking my husband, because I'd like to think I learn from past mistakes." They were divorced two years later. Sean Penn thanked Robin Wright the first time he won for Mystic River at the 2003 Oscars but forgot her when he took home his second for Milk. They divorced a year later. Octavia Spencer thanked neither of her nominated co-stars Jessica Chastain or Viola Davis when she won for The Help. By all accounts, though, the three of them are still deeply in love.
Winners are most likely to become choked up when they mention their family members, which could be one reason they save them for the finale. Daniel Day-Lewis ended his perfect acceptance speech dedicating his statue "for my mother." Moms are referenced most often, though dads are hardly snubbed. Occasionally a winner will mix it up with an inspirational grandparent. When Jamie Foxx told a loving story about his grandmother repeatedly whipping him, the atmosphere in the room seemed to change from exhilarated to should we be clapping?