Young Adult
Charlize Theron and Diablo Cody team up for a bitter, mean, memorable anti-romantic comedy.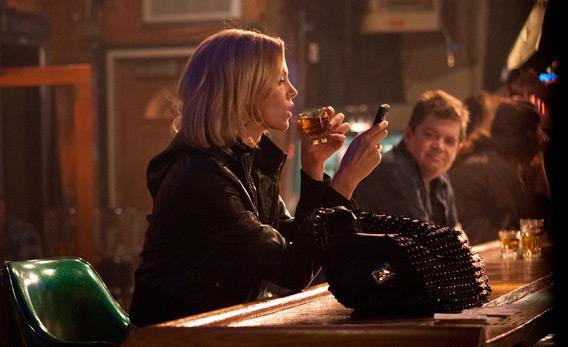 Click on the audio player below to listen to Slate's Spoiler Special podcast on Young Adult after you've seen the movie.*
December is the season of puffed-up Award Movies. Whether good or bad, War Horse and We Bought a Zoo and Tinker Tailor Soldier Spy all have a prestige-y sameness to them. So consider Young Adult (Paramount)—a collaboration between the Juno tag team of director Jason Reitman and writer Diablo Cody—a sharp stick to puncture those bloated hopefuls. Young Adult doesn't fully work, but it's still one of the year's most memorable movies, a ruthless portrait of a heroine with a serious love/loathe relationship with herself.
That's Mavis Geary (Charlize Theron), a ghostwriter of a once-popular series of young-adult novels. For Monster, Theron gained weight and wore deglamorizing prosthetics and was rewarded with an Oscar. In Young Adult, she looks as great as she ever has, but she's a monster nonetheless. Indeed, I prefer this performance—it's sly and acid rather than spectacular. Spurred on by a birth announcement she interprets as a cry for help, Mavis returns from Minneapolis to her hometown of Mercury, Minn., intent on rescuing her high school boyfriend Buddy (Patrick Wilson) from a life of what she assumes to be parental misery. That Buddy seems perfectly happy does not matter a bit. "I'm a married man!" he protests at one point. "I know," she coos in response. "We can beat this thing together."
Mavis has plenty of problems. Her series is getting canceled, and she's having trouble writing the final volume. She drinks to excess. (Number of times we see Mavis pass out face-down in her clothes: four.) She seems convinced that back home in Mercury, the social order of high school remains firm; after a few days, she's wearing her old clothes and cruising around town in her Cabriolet. (Of course she had a Cabriolet.)
In high school, however, she would never have hung out with nerdy Matt Freehauf (Patton Oswalt). When she runs into Matt in a bar, she doesn't recognize his name, even though they had lockers next to each other for four years. Matt, now a bookkeeper at a local restaurant, tags along on Mavis' ridiculous quest, and their budding friendship, such as it is, makes for the film's best scenes. As an actor, Oswalt—a brilliant stand-up—has come a long way since his days of standing completely frozen for an entire opening sequence of The King of Queens. In Young Adult, he's funny, appealing, and touching, a bitter truth-teller to Theron's glamorous, relentless fabulist. "You're fucking mentally ill," he says with dawning realization as she spins her future with Buddy into a story out of her teen romance novels.
What I enjoyed most about Young Adult is how it functions as an anti-romantic comedy. Scenes from the rom-com playbook—the meet-cute, the big confession, the first kiss, the pep talk from a friend—turn skewed and absurd, thanks to Mavis' appalling lack of self-awareness. It's reminiscent of 2009's Seth Rogen-starring Observe and Report, which also employed an imbalanced main character to turn formulaic story beats into moments of creeping horror. Young Adult isn't as rigorous as that film, which never shied away from the dark and awful ramifications of its premise. The ending of Young Adult, on the other hand, is tonally uncertain; my colleague Dana Stevens and I, for instance, have completely opposite interpretations of what happens in the final moments.
As with Observe, audiences aren't likely to embrace Young Adult; after the screening I attended, everyone on the elevator (other than me) was visibly angry about the movie they'd just watched. But I admired Young Adult for its chutzpah and Theron for her go-for-broke performance. Most of all, I rejoiced in Diablo Cody's deft, funny, angry script. Where Juno hid a conventional story under its jargon-studded, ostensibly subversive surface, Young Adult is genuinely radical (and hamburger-phone free). I'm happy that Cody has mined her own obsession with teenagedom—and her experience of being a minor celebrity—and turned it into something spikier and more uncompromising than I would have expected. I'm keeping my fingers crossed for Cody's happiness, but boy was I fascinated by Mavis' misery.
Correction, Dec. 12, 2011 (SPOILER ALERT!): An earlier version of the Spoiler Special podcast referred to a character in Young Adult having an abortion. The character instead suffered a miscarriage. (Return to corrected podcast.)