The James Perplex
It shouldn't be so hard to film his books.
The Wings of the Dove
Directed by Iain Softley
Miramax Films

Eleven months ago, cultural pundits announced that this was to be the Year of Henry James. A confluence of film adaptations--The Portrait of a Lady, Washington Square, and The Wings of the Dove--suggested to them that James was about to acquire the Barnes & Nobleish familiarity previously enjoyed by Jane Austen. Such a fad was unlikely from the beginning, given the resistance that many have to this author. And the films have done little to advance his cause; they have been neither very good nor particularly entertaining. They have ranged from the watchable (Washington Square) to the queasily strange (The Portrait of a Lady) to the out-and-out wretched (The Wings of the Dove, opening this week). None has done or will do--my wild guess--much business. Everyone will return to the assumption that James is unfilmable.
But why should that be so? In theory, James is no less cinematic than any other canonical novelist. His writing thrives on an effect that should transfer well to film: the juxtaposition of smooth surfaces and coiled tension. On the one hand, his characters live minutely in a small world, firing off catty remarks while proceeding through fine locales--the kind of closed domain film represents to perfection. On the other hand, they seethe with the purest raw emotion. It's a delicious surprise to grasp the musculature of melodrama under their conversational finery. The dirty secret of these books is that they are high concept in the extreme. The Portrait of a Lady: An innocent heiress is seduced by an expatriate sybarite. Washington Square: An innocent heiress is caught between a charming gold digger and a sadistically judgmental father. The Wings of the Dove: An innocent, ailing heiress falls in with an unwed couple who dream up a subtly horrible scheme to take her wealth when she dies.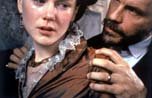 J ames'characters are not, by and large, deep people; they are people in deep. They are surrounded by money, burdened by money, in want of money. No Marxist is as precise in the observation of the corrosive effect of capital. As Madame Merle puts it in Portrait:
When you've lived as long as I you'll see that every human being has his shell and that you must take the shell into account. By the shell I mean the whole envelope of circumstances. There's no such thing as an isolated man or woman; we're each made up of some cluster of appurtenances. What shall we call our 'self'? ... It overflows into everything that belongs to us--and then it flows back again.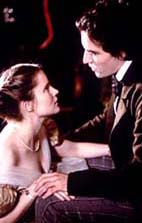 Human beings trapped by their belongings, or by their desire for belongings--such a thing ought to be eminently filmable. If nothing else, film is good at capturing the look of money.
And these films have their moments. In Jane Campion's Portrait, the frightful Gilbert Osmond, played by John Malkovich, moves through his palazzo with a sublimely correct air of decadent connoisseurship. His things, his objets, are a trap, for Isabel Archer and for the viewer. But Campion gives away the game by telegraphing Osmond's malignity right away. She gets the surface of the book right, but tampers with the melodrama underneath. As a result, the heroine never has her spells of discovery and joy; she is an unsympathetic masochist. Agnieszka Holland's Washington Square is also splendid to see--especially the sturdy bourgeois splendor of Dr. Sloper's home, which the rakish Morris Townsend desires rather more than Sloper's daughter. But the huggable Ben Chaplin, who plays Townsend, doesn't communicate the raw hunger for appurtenances that could be read in the face of Monty Clift, who played this same role to the hilt in The Heiress (1949). Nothing seems amiss with Chaplin's nice, shallow fellow.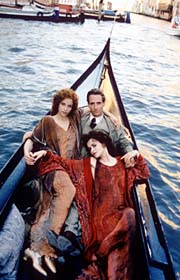 S till, Portrait and Washington Square are exactingly faithful in comparison with Iain Softley's The Wings of the Dove. It's hard not to laugh at the mere idea of the creator of Backbeat, a slick, music-videoish Beatles rockudrama, taking on James' greatest, most passionate novel. (Perhaps he got the idea from Bruce Wagner's Hollywood satire Force Majeure, in which a Wings of the Dove screenplay is a running joke.) I went to the movie with a lingering hope; it would have been satisfying to see a few scenes of the book done well, such as Campion and Holland both managed in their films. But there is no other way to describe what Softley does to the novel than to say that he totally fucks it up. He has announced his intention to update the story, to show 20th-century liberties at war with 19th-century values; but he manages to produce a work far more sentimental, conventional, and backward than James' worst made-to-order stories.
Things go awry at once. In the book, the story begins with a cryptic scene between a young woman and her father. The woman is Kate Croy, a fiendishly complex heroine. Over all her actions, her negotiations and her schemes--to stay in the good graces of her imperious high-society aunt; to hold on to her "clever and not rich" journalist lover, Merton Densher, and yet to marry him off to Milly Theale, the dying heiress from America--there hangs the mystery of her father, a well-dressed, haughty, impoverished man who sometime in the past was brought down by something "unspeakable." (Homosexual blackmail, perhaps.) It is such a dark, difficult scene--an elliptical falling-out--that I would have understood if a filmmaker had cut the father from the picture altogether. But I cannot accept Michael Gambon hamming his way through an impression of a man addicted to opium, or the sub-Dickensian idea that Helena Bonham Carter's Kate is scraping together money to help him. It's one thing for a filmmaker to read the book and change it. It's another for a filmmaker to misread the book, to step all over James' meticulous clues.
T his Dove has the virtue neither of authenticity nor of creative revisionism. Its scenes of turn-of-the-century London are undistinguished and incoherent, mixing elements of Edwardian and jazz-age London. Its cinematography of Venice, where the action moves for its icy climax, does not come near the best movie evocations of that city. Softley misses opportunities provided by uncommon Jamesian flights of fancy--especially the scene in which Merton Densher wanders a "Venice of cold, lashing rain from a low, black sky," a "Venice all of evil" in which his and Kate's schemes are destined to end shortly and badly. Aside from flashes of cold passion in Bonham Carter's Kate, the performances are bland. The look of the film is gauzy, sleepy, more VH1 than MTV. The ending is a travesty of one of James' most intense scenes--the final exchange between Merton and Kate, in which every line of dialogue is a chess move and in which a thin hope for reconciliation lingers to the end. Softley's notion is to have the actors engage in mechanical sex while sputtering bits of the closing dialogue. It's like some horrible conceptual Shakespeare production with actors wearing strap-on phalluses. And James' last line--a massive melodramatic kicker, a swooping down of the curtain, which I will not spoil for the uninitiated--is dropped. This is rather like Hamlet without "The rest is silence."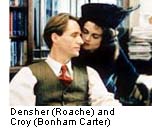 The director says of his soft-porn finale: "It's a moment in which you could have the most intense sex of your life, while knowing that something is terribly, irrevocably wrong." Once again, he's skimming the assignment. There is such a scene, but it is earlier, offstage, just before the evil Venice storm. "She had come, that once, to stay, as people called it," James writes--they spend the night together. That union begins the demise of Kate and Merton's relationship. It punctuates the grotesquerie of their situation, the big lie they have made for Milly Theale. It is crucial for what it reveals about Merton Densher's psychology, about his idealization of the pure woman, who Kate is no longer and who Milly Theale becomes. Densher is secretly the villain of the book, or at least, its malign idiot. But the director overlooks James' critique of male monomania. He produces a Wings of the Dove that is less sympathetic to its heroine than the century-old original. This is the exact opposite of another of his stated intentions, "not to judge Kate as James did in his time." If Softley thinks he is dealing with a Victorian moralist, his Cliffs Notes to the book must be smudgier than most. His chauvinism of the present--let's not judge, let's not be repressed--backfires mightily. The movie is a modern facsimile of the potboilers James transfigured. A great movie may yet be made of James, but it will have to be done by someone who has read him.