The Empire Striketh Back
Act 1, Scenes 1–2.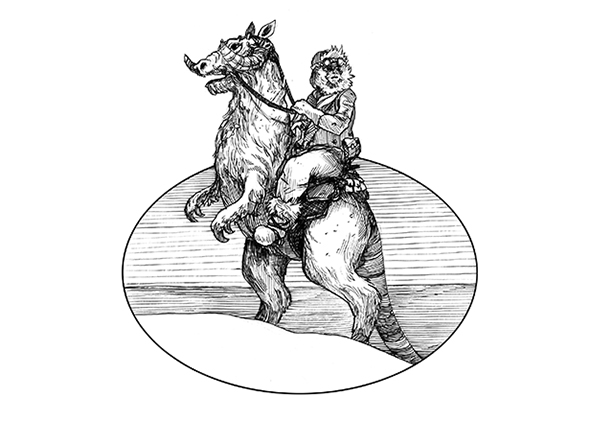 If flurries be the food of quests, snow on.
Belike upon this hoth, this barren rock,
My next adventure waits. 'Tis time shall tell.
And yet, is it adventure that I seek?
Shall danger, fear, and action fill my days?
Shall all my life be spent in keen pursuit
Of great adventure and her fickle fame?
It seemeth I have had enough of life
To fill a thousand normal human lives—
A princess in a vision spake to me,
My aunt and uncle by stormtroopers slain,
A hasty flight from my home, Tatooine,
A pilot and a Wookiee and a Knight,
A rescue brave within our cruel foe's grasp,
My teacher kill'd, and then the final scene:
The Death Star battle—many friends were lost,
But in the end a greater war was won.
Adventure hath both taken from my life,
And given to me ev'rything I have.
And thus I seek and shun its tempting ways.
E'en now adventure knocks upon the door:
A flaming orb hath struck the ground nearby.
Is it a portent of some ill to come?
[Into comlink:] 'Tis Echo-Three to
Echo-Seven: Han,
My true companion e'er, canst thou hear me?

[through comlink:] Aye, truly, chuck, thy voice
rings loud and clear.
What can I do for thee, my noble friend?
My circle 'round the area hath been
Completed now, but naught of life nor forms
Of life my scan hath yet uncover'd.
[through comlink:] —Nay.
There is not life enough upon this cube Of ice to fill an empty space cruiser.
The sensors have I put in place, so shall I now return unto the base.
—'Tis well,
And I, forsooth, shall soon meet with thee there.
But I have spied a met'orite that hath
Its landing made near here. So shall I go
And fix my eyes upon the scene. I'll not
Be long, I warrant; then, I shall return.
You viewers all, whose gentle hearts do fear
The smallest womp rat creeping on the floor,
May now perchance both quake and tremble here,
When wampa rough in wildest rage doth roar.
Pray know that I a wampa simple am,
And take no pleasure in my angry mood.
Though with great force this young one's face I slam,
I prithee know I strike but for my food.
Alas, is this th'adventure I am due,
To die upon a vicious monster's whim?
I am attackèd by this awful beast!
O fate most wretched—shall I be his feast?

[Exit, pursued by a wampa.
A scoundrel may not rise above his place—
This is a fact the galaxy doth teach.
For e'en though I have join'd rebellion's ranks
These many weeks and months, and gain'd respect
Within their noble band, my scoundrel past
Doth make its harsh demands upon my life.
The bounty hunters sent by Jabba make
Pursuit to win the price upon my head.
So must I go once more unto the depths
Of my old life, find Jabba of the Hutt
And pay his ransom, thus to free my soul.
I would not leave my noble rebel friends,
I would not leave the cause for which they fight,
I would not leave the princess and her charm,
I would not leave all these, and yet I must.
A life's not well lived under threat of death,
Especially with men of cruel intent—
Who for a price shall fill the Hutt's demands—
Upon the trail of my indebtedness.
And so, my mate Chewbacca and I leave
Upon the instant that the ship is set to go.
Enter CHEWBACCA, working on the MILLENNIUM FALCON.
I say, Chewbacca, ho! Aye, Chewie!

Lose not thy temper, gentle Wookiee, nay, But practice patience; I shall help thee soon.
[Exit Chewbacca. Han crosses to command center with Princess Leia and General Rieekan.
—Solo, wouldst thou speak with me?
Good general, the sensors are in place,
And surely shalt thou know if aught comes near
Our hidden station here.
—Well. Prithee say,
Commander Skywalker, hath he yet made
Report?
—Nay, truly. He hath gone to see
A met'orite that hath made landfall near.
With all the met'orites a'falling in
This system, I believe we shall have pains
And trouble in detecting 'proaching ships.
[aside:] How shall I tell my news most difficult,
And crush this man's great hopes for what's ahead?
Fear not, O heart, but be direct and calm:
'Tis best approach'd straight on, like th'Kessel run.
[To Rieekan:] My general, I cannot stay. I must
Make haste and get me hence, e'en now.
[aside:] —Alack,
How like a death knell sounds this news to me!
I tell thee truly when I say to thee:
This news doth break this gen'ral's gentle soul.
I could not be more sorry, pilot brave.
A price still lies upon my head, and if
I do not make amends with Jabba, I
Shall not repay with money, nay, but life.
A price too dear, indeed! A death mark is
No kind companion to a free man's life.
Thou art a warrior noble, Solo, and
I hate to lose thee.
—And thou art a kind,
Good general, sirrah, I hate to go.
[Exit Rieekan. Han turns to Princess Leia.
And so, your highness great, this is the end.
—I prithee mourn me not, and show
No sentiment. Farewell, thou princess cold.
[Aside:] I go, and hope she'll follow hard upon,
For if she shall not follow, all is lost.
[Han Solo begins to exit, pursued by Princess Leia.
—What is thy pleasure, highness?
I did believe that thou had chos'n to stay.
The bounty hunter we did meet on Ord
Mantell hath chang'd my mind.
What "we"? Why speakest thou of "we"?
Dost thou in royal terms speak here of "we"?
Hast thou a rodent in thy pocket, such
That thou and he are "we"? What meanest thou?
What need is there that thou dost share with all?
Speak not of "we," but "I." O princess, what
Dost thou most need? Not "we," not "they," but thou?
I know not what thou speakest of.
—'Tis true.
Most probably thou dost not know thyself.
And what, pray tell, precisely should I know? Of what great myst'ry am I unaware?
Hast thou the depths of Leia plumb'd and seen What lies within my soul, my very core?
Be not elusive, nay! Thou wouldst that I
Should stay because of how thou feelest in
Thy heart about me. Need hath turn'd to want.
Pray, tell me not thy needs, but thy desires.
Thou art a leader full of skill, 'tis true.
Thine answer leadeth thee astray. Let fly!
I see it in thine aspect now, let fly! Tell me the answer true.
—Thy vanity
hath puff'd up thine imagination.
—Aye?
Then why dost thou yet follow me? Wert thou
Afraid I would depart without a kiss?
I would as eagerly kiss Wookiee lips.
That can arrangèd be. By heaven's breath,
A kiss would suit thee well!
—O man of bile!
Thou wouldst make e'en the coolest temper burn,
For thou art made of heat and flame and fire.
No wood may stand within a mile of thee
But it shall roast as if 'twere on the sun.
And now, thy scorching manner lights my fuse.
Aye truly, I confess I am aflame:
Thine eyes create combustion in my heart,
Thy face doth cause my cheeks to flood with warmth,
Thy fingers set me trembling at their touch,
Thy hands may hold the secrets of my soul.
Thou hast a pow'r o'er Leia's very self,
Yet wear my patience past what I can bear.
For o, how thou dost needle, jest, and prick
When thou dost think thy pride is at the stake. Be not so full of bile, my noble Han.
I prithee, choose the tender side of wit.
If thou couldst ever put thy pride away,
Belike my prejudice would fall aside.
Then could our two hearts sing a melody,
Instead of clashing in disharmony.