"I'd Like To Thank Members of the Academy"
Academia's most popular one-year fellowship, the Guggenheim, has been awarded to dozens of academics, including the University of Chicago's Neil Harris, who will research the history of the American urban newspaper building, and Williams College's Richard Stamelman, who will study the literature and culture of perfume. Meanwhile, the New York Public Library's brand new Center for Scholars and Writers unveiled its first class of fellows, each of whom will receive a $50,000 stipend and an office in the venerable library. Chosen under the auspices of the center's director, historian Peter Gay, the fellows include cultural critic Paul Berman, at work on a literary and political history of the Nicaraguan revolution; technology historian Gregory Dreicer, who will study the architecture of racial segregation; and historian Marion Kaplan, who studies the daily life of Jews in Nazi Germany.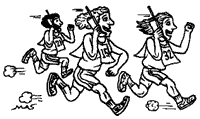 George Mason University has dropped three star runners from the track team for the wrongful use of campus phones--and fired their women's track coach, Norm Gordon. According to the Washington Post, assistant coach Joe Showers allowed three members of GMU's women's track team--all of whom hail from Jamaica--to make long-distance personal calls from his office. After a routine audit of the departmental phone bill, GMU discovered the calls and found them to be in violation of NCAA rules intended to curb recruitment abuses. Even if the NCAA allows the athletes to regain their eligibility by reimbursing the school, GMU's athletic director has decided they will not run with the team this semester.
Students at Wofford College in Spartanburg, S.C., staged a protest March 3 against one of their fellow students, white supremacist Davis Wolfgang Hawke, a Web-savvy junior who runs a neo-Nazi organization from his dorm room. Hawke is also double-majoring in history and--sensibly enough--German. While his fellow students aren't banding to his racist wagon, the Southern Poverty Law Center reports that Hawke has garnered about 100 faithful adherents, most of whom are linked to him through his Knights of Freedom Web site. The Atlanta Journal-Constitution reports that Wofford officials don't feel they can do much about the situation because of Hawke's First Amendment rights, but the school's dean says, "There is no feeling here that we just say it's free speech and go the other way. The institution has the obligation to speak out forcefully against speech that is offensive."
Meanwhile, Florida State University psychology Professor Glayde Whitney has given David Duke his scientific blessing. In a foreword to Duke's latest book, a 700-page autobiography judged by hate group watchers to be the most naked statement yet of the former KKK grand wizard's racist views, Whitney calls Duke a "seeker of truth," comparing him to Enlightenment philosopher Voltaire and declaring his vision of racially segregated societies to be based on "good science." The endorsement--along with the revelation that Whitney has quietly pursued race-based research for 30 years--has provoked a furor at FSU, which has the second-highest number of black students among the state's public institutions. At a town meeting, FSU President Sandy D'Alemberte declared Whitney's beliefs "obnoxious" but defended the tenured professor's right to publish them.
Abetted by AFL-CIO outreach campaigns, students are mobilizing in the name of labor on college campuses. On April 16, demonstrators at Harvard, Yale, Stanford, and Kent State spoke out on labor issues ranging from graduate student unionization, academic stipends, and teaching loads to sweatshop abuses. At Yale, the protest was organized by the Graduate Employees and Students Organization, which is fighting for recognition from university administrators. Turning out to support GESO and its recent study claiming that 70 percent of undergraduate instruction at the college is performed by poorly compensated graduate students and adjuncts were 500 student activists and labor leaders, including an AFL-CIO vice president and Nation columnist Katha Pollitt. Meanwhile, in California, the state's Public Employment Relations Board has ruled in favor of allowing union elections at the seven University of California campuses by the end of the semester.
Friday the Rabbi Went to a Gay Bar