Replaying Brando
How DVD adds new depth to his greatness.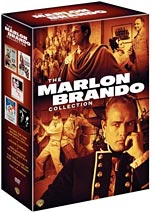 Marlon Brando's peers, imitators, and most extreme fans mistake him when they claim that he was the greatest film actor we have ever seen. Misled, they push this perspective primarily because of Brando's mumbling, posing, raging, and pouting—influential moves that were copied because they constituted a style perfect for expressing men with adolescent limitations. Yet Brando used these techniques only for certain characters and found other ways to lift his roles into life. While it's understandable that Brando would be celebrated for his visceral portrayal of adolescent limitations at a time, after World War II, when that archetype began to overtake American society, that wasn't Brando's principal talent. The aesthetic fact of the matter is that Brando's main achievement was to portray the taciturn but stoic gloom of those pulverized by circumstances. He was one of our finest cinematic poets of defeat.
As William Carlos Williams pointed out, our culture tends to confuse a tragic figure with a loser. This means that the admission and rueful acceptance of having been beaten by life form the grand personal tragedy in the American context. With so few examples of how well this sensibility can be articulated, the American actor of sensitive instincts soon realizes that the expression of defeat or of tragedy is one of the hardest things to do and still remain beyond sentimental overstatement. But Brando was capable of making extreme sentimentality part of a character's temperament, and the actor's facility in the dangerous world of emotional pathos granted him some of the supreme moments in American cinema.
We can now understand On the Waterfront (1954) as a foreshadowing of the deepest meanings of the nonviolent tactics of the civil rights movement. Brando is most heartbreaking in the scenes with Eva Marie Saint, when he expresses through Terry Malloy a feeling of impotence and complicity in murderous corruption. Brando, so aware of how much Malloy wants the girl to respect him, brings a masterfully subtle and meek tone of apology to the voice, face, and gestures of a young man who can no longer try to be tough and unconcerned in the face of debasing mob rule.
In those scenes, Brando individuated the universal common man under the thumb of ruthless power, a type of individual whom we saw rise to bring change in the colonial, the capitalist, and even the totalitarian worlds given so much debilitating day-to-day detail by writers like Milan Kundera. Almost any good actor could have portrayed Terry Malloy in his rageful and anarchic moments, which we have seen many times, in everything from Westerns to crime stories. The excruciating shame that Terry feels for having hidden his abundant fear behind a bluffing mask of false worldliness could have been given such stinging three-dimensionality by only a few, and Marlon Brando was one of them.
Don't believe the hype: Brando's Terry Malloy did not come out of nowhere. His was an extension of the American blues within the context embodied by Gary Cooper in Meet John Doe (1941), Henry Fonda in The Grapes of Wrath (1940), and Jimmy Stewart in Mr. Smith Goes to Washington (1939), all of whom had a heroic gripe with some aspect of the system. What Brando actually did was bring the new urban harmonies necessary to whisper and belt out the blues created by the gangster forces in the shadow world of the city. Almost no such moments are contained in The Marlon Brando Collection of DVDs. It is an unrepresentative collection of the actor at the height of his intimately provocative talents, but it does contain two masterpieces of performance so different from one another that the breadth and certitude of Brando's range is bracing.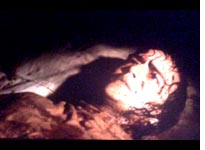 One is Brando's Fletcher Christian in Mutiny on the Bounty (1962), a character he interprets as a high-toned British fop who is more than mildly reluctant to face the sadistic inclinations of Trevor Howard's finely drawn Capt. Bligh—a leader who mistakes sadism as a substitute for firm but inspirational command. Brando has a superb understanding of how much it takes for a witty, charming, and insubstantial man to stand up against the very order that guarantees his position in the world. But his finest moment is the point at which Christian asks if he is going to die. The question quakes with a soft but desperate tone devoid of privilege or mannered cultivation. When told his wounds are fatal, the leader of the mutiny responds with a timeless look of doomed recognition that stands with the best.
The other masterpiece is Brando's tragically repressed homosexual in Reflections in a Golden Eye (1967), which has scalding moments of self-realization that might equal in visual eloquence the darker mirrors into which Shakespeare's characters peer. That might sound like a mediocre instance of contemporary toadying to a legendary star, but let me explain. In the theater, an actor's voice and body communicate to the audience most fully because many of those in the seats cannot make out facial expression to any great extent. Film made the face, rather than the voice, the actor's ultimate solo instrument and the close-up into a cinematic cadenza through which unprecedented facial expression was possible. When a master of Brando's talent is at work, a picture that is equal to the words of Shakespeare becomes a moving phenomenon, and prodigious levels of revelation are available to the eye.