The United States of Dunkin' Donuts
What America would look like if our state borders were based on fast-food density.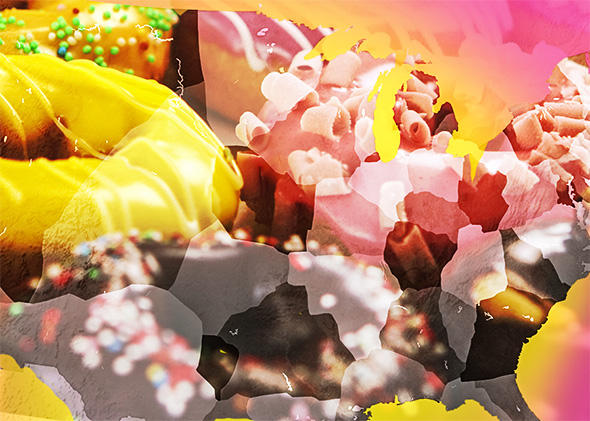 If you wanted to split up America into 50 states with the same number of McDonald's locations (and used a similar method to the one I described Monday), it would look something like this:
The data for the map above and the ones below was collected from Menuism. Each state in our reimagined U.S. has 316 McDonald's stores, plus or minus one. McDonald's started in San Bernardino, California, in 1955 and expanded rapidly. Between 1959 and 1963, it grew from 100 to 1,000 restaurants. Nowadays, there tend to be McDonald's stores where there are people, so the McDonald's map you see here is not dissimilar from the population map I produced on Monday. (That said, Ohio can claim the highest number of Golden Arches per capita.)
Other fast-food chains started off as regional brands and expanded across the nation more gradually. In 1981, Chick-fil-A had 100 restaurants. It took until 2005 to reach 1,000. Click the play button below to watch Chick-fil-A's expansion out of the South:
Expansion of Chick-fil-A
Click the button below to animate.

The data for this map comes from Chick-fil-A. It only includes restaurants that still exist—shuttered Chick-fil-A locations are not included on the map. Today, 11 percent of all Chick-fil-A stores are in the company's home state of Georgia. This makes Georgia the state with the second-most locations (Texas is home to 16 percent of the company's stores), but Georgia remains the per capita leader (one Chick-fil-A per every 48,000 residents or so).
Other chains that have grown from local operations to nationally recognized brands still maintain strong regional roots. Dunkin' Donuts has expanded rapidly in the last decade or so, but its footprint in the Northeast remains disproportionately large. In Massachusetts, there is a Dunkin' Donuts for every 6,500 people, while there is one Dunkin' Donuts for every 12.7 million people in California. Dunkin' Donuts has more locations in New York and New England than it does in the rest of the country combined.
Jimmy John's was founded in Charleston, Illinois, in 1984. It has since grown to more than 2,000 locations in 43 states, but today there are still more Jimmy John's stores per capita in Illinois (one per 51,000 people) than in any other state.
Sonic, founded in Oklahoma in the 1950s, is still more highly concentrated in the Sooner State than any other, at a rate of roughly one per 15,500 residents.
Other chains, however, have outgrown their regionalism. Subway, which started in Connecticut in 1965, is now dispersed pretty evenly across the U.S.
Today, five states edge out Connecticut in locations per capita—Ohio, Wisconsin, Nebraska, Wyoming, and Indiana—and 38 of the 50 states have a rate somewhere between one Subway store for every 9,000 to 15,000 residents.