Good Times Bad Times
Modern rock didn't start with Dylan or the Beatles. It started with Zeppelin.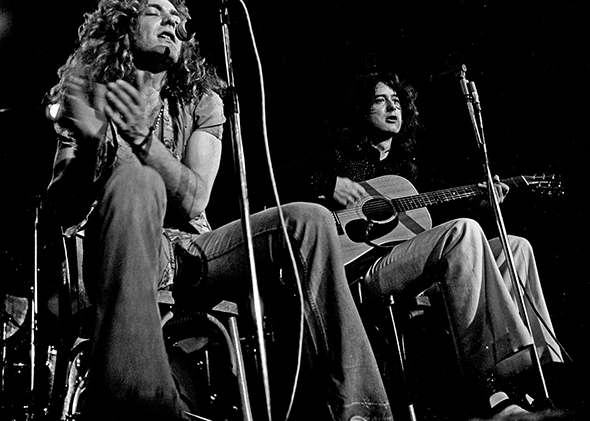 It is early 1969, and you are young. You hold in your hands an LP by a band with a strange name. The cover art is a black-and-white photo of the Hindenburg exploding, cropped and retouched to resemble some phallic, Nazi apocalypse. You remove the record from the sleeve and place it on your turntable. The sound of a guitar explodes into your ears, two quick bursts of a Fender Telecaster, each lashed to a violent drum hit: BOM-BOMP. The next two minutes and forty-some seconds roll by like an avalanche, intricate webs of guitar and bass, thundering percussion, a 20-year-old vocalist belting lines like "I know what it means to be alone" with a flamboyance that makes it impossible to believe him. When it all ends you grab the needle and move it back to the record's edge, to confirm all this is real, and it all begins again. BOM-BOMP.
That twin blast of an E chord (of course it's E) is the opening sound of "Good Times Bad Times," the first track on Led Zeppelin, which would soon be known as Led Zeppelin I once Led Zeppelin decided to name their next two albums after themselves as well. In 1969 it was as powerful a shot across the bow of pop music as the "one two three fuh!" that had kicked off "I Saw Her Standing There," the glowing Wurlitzer that had opened "I Never Loved a Man (The Way I Love You)," the blinking, blaring tritone that had heralded "Purple Haze." It was the sound of a new world being born, and the louder sound of an old world being destroyed.
Led Zeppelin, Led Zeppelin II, and Led Zeppelin III have recently been given deluxe reissues by Atlantic Records. Each package contains a remastered version of the original album, along with a generous helping of bonus tracks. The first boasts a live set from a concert in Paris in 1969 (which has been floating around the Internet for years) while the second two include collections of rough mixes from the sessions from Led Zeppelin II and Led Zeppelin III, respectively.
The remastering is pretty superfluous: These are, and always have been, three of the most perfect sounding rock albums ever made. The rough mixes of II and III, though, are a revelation, casting light on Jimmy Page's immense talents as a producer and giving us the opportunity to rediscover this band as they were, four absurdly gifted young people making music together, as opposed to the rock deities they'd forever after be imagined as. You can hear Page's pick scraping string on a demo-ish "Whole Lotta Love," Robert Plant feeling his way through an early pass at "Ramble On," Bonzo counting the band back in on a skeletal version of "Moby Dick," the careful interplay of Page's acoustic and John Paul Jones' mandolin on a rough cut of "Gallows Pole." Listening to the ragged life behind these recordings reminds us, on the one hand, that four guys made these records. It also reminds us, on the other, that four guys made these records. Sometimes being made human only heightens your immortality.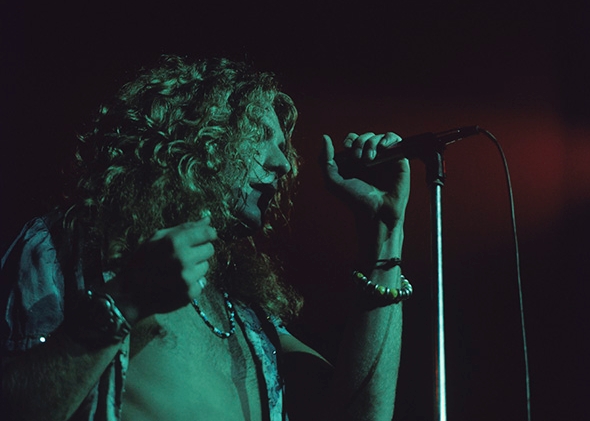 Led Zeppelin's legacy is fittingly long and fittingly loud. Depending on your preference in white male hagiography, "modern" rock music is often said to have started with Dylan's "Like a Rolling Stone," or Sgt. Pepper, but these myths are wishful, and overly fanciful: Modern rock music started with Led Zeppelin. Their influence, for better and worse, over all that's come since is singular. Punk in the 1970s was a rejection of their pompous pretentiousness, metal in the 1980s an affirmation of their excesses, grunge in the 1990s a reclamation of punk that often sounded a lot like Led Zeppelin. We have Led Zeppelin to blame for Creed; we have Led Zeppelin to thank for the White Stripes. They were a band loved by millions, but if you were smart, or just cool, you probably hated them. Led Zeppelin lifted popular music to new heights of opulence and ambition and in doing so made people fear for its future. They were a microcosm of age-old anxieties about music and commerce and youth and race and sex: if the music of the '60s—Motown, the Beatles, Stax and Muscle Shoals, Woodstock—brought unprecedented consensus, Led Zeppelin brought something like the opposite. Forty-five years later, we live in their aftershocks.
Led Zeppelin was an idea before they were a band, and that idea was always huge. Jimmy Page was a former skiffle prodigy who by the mid-1960s had made himself into one of the top session guitarists in England, playing on hits ranging from Donovan's "Sunshine Superman" to Petula Clark's "Downtown." In 1966 he joined the Yardbirds (enjoying a cameo in Antonioni's Blow-Up), but the band was already on its way to breaking up. Page conspired to form a "supergroup" with ex-Yardbirds guitarist Jeff Beck and the Who's John Entwistle and Keith Moon. Someone (Entwistle or Moon) joked that the idea would go over like a lead balloon—a "lead zeppelin."
The lineup didn't stick but the joke did. When Page recruited a singer from Birmingham named Robert Plant, a ferocious drummer named John Bonham, and a bassist and musical polymath called John Paul Jones to join his project, they dropped the A from the first word out of fears that Americans would mispronounce it "leed zeppelin." Led Zeppelin signed with Atlantic Records, the legendary R&B label that had made superstars out of Ray Charles, Otis Redding, and Aretha Franklin, for an unprecedented six-figure advance. Led Zeppelin was the first significant band to emerge from a post–British Invasion world and effectively reversed its trajectory. They conquered America before even bothering with their home country: Led Zeppelin was released two months earlier in the States than it was in England, and on an American label to boot.
For a band so fundamentally associated with the 1970s, it's startling to remember that Led Zeppelin came out seven months before Woodstock, eight months before Abbey Road, 11 months before Altamont. Much like Never Mind the Bollocks, Here's the Sex Pistols or Straight Outta Compton, Led Zeppelin was an enormously important album that wasn't an entirely great one. It had two exquisite tracks ("Good Times Bad Times" and the nastily brutish "Communication Breakdown"), but much of the rest was uneven and bloated, alternately half-baked and overbaked. The album's centerpiece was the six-and-a-half-minute "Dazed and Confused," a morass of shrieking chromaticisms and asinine misogyny. It would quickly become one of the band's most iconic works, stretched to 20 or 30 minutes in concert, replete with gongs, vocal histrionics, tricked-out guitars played with violin bows.
"Dazed and Confused" is a lousy song, the musical equivalent of plastering a horrific tragedy on your album cover and then asking your art department to make it look more like an erection. For the band's detractors, "Dazed and Confused" was an easy metonym for everything wrong with Led Zeppelin: loud, overlong and oversexed, plagiarized ("Dazed and Confused" had been originally recorded by American folksinger Jake Holmes in 1967; Led Zeppelin changed just enough to avoid crediting him).
And from the beginning, those detractors were vocal. One of the well-worn saws of Led Zeppelin lore is that they were universally loathed by the critical establishment. Like so much about the band, this is a partial truth that's been exaggerated in the retelling. Plenty of critics liked Led Zeppelin and plenty more politely tolerated them (the British press were particularly enthusiastic—New Musical Express breathlessly declared them "a blitzkrieg of musically-perfected hard rock that combines heavy dramatics with lashings of sex into a formula that can't fail to move the senses and limbs"). What is true is that a certain very influential contingent of writers hated them. Specifically, Rolling Stone magazine hated Led Zeppelin and hated them during a period in which the publication was consolidating its reputation as the world's most influential organ of rock journalism. Critic John Mendelsohn, reviewing Led Zeppelin for RS in 1969, lamented the album's "weak, unimaginative songs" and "prissy Robert Plant's howled vocals," and sniffed that Page's foursome was a long way from filling the shoes of the recently disbanded Cream.