The Return of the King
A producer resurrects—and transforms—a Michael Jackson song for Xscape.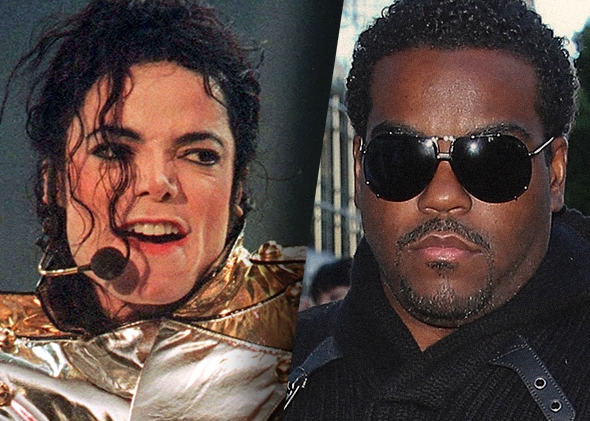 When a version of the title track for Michael Jackson's posthumous album, Xscape (out Tuesday) surfaced online in early April, producer Rodney "Darkchild" Jerkins was still working on it. Holed up in Larrabee Studios in North Hollywood—where Jackson recorded tracks for his 1991 Dangerous album—he was listening for details. The sole producer for Xscape to have worked with Jackson on a previous album, Jerkins knew from personal experience the artist's relentless pursuit of perfectionism.
"That was our process," says Jerkins. "That's the way we worked. We just kept at it until it was ready. We just worked on ideas, added this and that to the mix." Jerkins could still hear Jackson's soft but insistent voice pushing him, telling him to "dig deep," and find sounds no one had heard before. Returning to the song over a decade since they last worked on it (and nearly five years since the singer's death), he was trying to somehow channel "what MJ would be telling me if he was right there working with me."
The track is one of eight mostly-finished songs culled from Jackson's vault and "contemporized" by an all-star team of producers hand-picked by Epic Records CEO L.A. Reid (in addition to Jerkins, Reid tapped the talents of Timbaland, J-Roc Harmon, Stargate and John McClain). The concept for Xscape obviously will not appeal to purists. But the album has received surprisingly strong reviews from critics, and lead single "Love Never Felt So Good" is charting higher than any Jackson single has since 2002. This, of course, has as much (if not more) to do with the quality of Jackson's unheard vocal performances as it does the new production.
When the title track seemed to leak in April, the response was overwhelmingly positive. Huffington Post called it "vintage MJ." Spin called it "chrome-bright funk pop." And BuzzFeed praised it as "the best new Michael Jackson song in forever." Yet as Slate's Forrest Wickman notes, that version of "Xscape" was not the production Jerkins was working on. It was the version Jackson and Jerkins last recorded together from 1999 to 2001. The new version, on the album, allows us to hear Jackson in new, reinvigorating ways. Jerkins' work is emblematic of the transformations on Xscape; the song doesn't replace, so much as it complements Jackson's original track, accenting different features, textures, and possibilities inherent in the song.
Jerkins co-composed the song with fellow R&B hit-makers Fred Jerkins III and LaShawn Daniels (the trio previously co-wrote such late-'90s classics as Brandy's "The Boy Is Mine" and Monica's "Say My Name"). "Xscape" was first presented to Jackson in skeletal form (with partial lyrics) in 1999 over the phone during the early stages of the Invincible project. When Jackson heard the song, "he went crazy," Jerkins recalls. "He was like, 'That's what I'm talking about! That's what I'm talking about!' It made him want to dance." Anyone who worked with Jackson knew that was the ultimate barometer for a rhythm track.
Jackson was so excited about the song he insisted that recording begin right away. Since Jerkins was in New Jersey and Jackson was in Los Angeles, they utilized the latest technology from EDNet—a company that originated within George Lucas' post-production facility, Skywalker Sound, and became popular in the music industry after its equipment was used on the 1993 Frank Sinatra album, Duets—to allow Jerkins to hear and record Jackson through a phone line with near-perfect fidelity while in different studios. Jackson laid down all his background vocals that day in Record One, as Jerkins recorded them from New Jersey. The producer flew out to L.A. soon after and recorded Jackson's lead.
Sonically, the track juxtaposed clipped, percussive, climbing verses with an airy, harmony-driven chorus. Jackson loved to tell stories in his music, so he and Jerkins came up with an introduction to the song ("he called them 'vignettes,' I called them 'interludes,'" says Jerkins) of a prison break. Early versions of the song begin with the sound of a jail cell door being unlocked; the prison guards have come to check on an inmate, but his cell is empty. For Jackson, the introduction, like the song itself, was a metaphor for his own unusual life, trapped behind gates, mocked, stalked, cornered, and labeled by a public that demanded he be anything but human.
The pair continued to tinker with the track even after it wasn't included on Invincible. It first leaked online in 2002 and quickly became an underground fan favorite (in spite of the leak's relatively poor sound quality). Yet Jerkins always felt bad the track never got its moment to shine. When Epic CEO L.A. Reid approached Jerkins about "Xscape" in 2013, the producer felt ready to address the song again. If Jackson were alive, he reasoned, he would want it to sound current. He wouldn't play it safe or nostalgic; he would want the song to feel fresh and be heard. Jackson himself frequently returned to unreleased songs years or even decades after they were first recorded and tried out new production, arrangements, and lyrics; "Earth Song" was first conceived in Vienna during the Bad Tour in 1988, but wasn't released until 1995's HIStory.
Jerkins' goal for the new version of "Xscape," then, was to bring the production up to the present the way he felt Michael would. His new mix adds a bone-vibrating bass, punchy, disco-flavored horns, and cinematic strings to heighten the track's drama and intensity. He wanted the song to capture elements of the past and present, but not to feel busy or showy; he wanted it to be leaner. "I wanted it to hit right away," says Jerkins. "Just to get the energy of the song." In place of the original intro, Jerkins allows Jackson to showcase his singular, syncopated beatboxing and trademark percussive vocal exclamations. There's also Jackson's voice from a long-ago recording, intoning "Darkchild," Jerkins' nickname. The glitchy, electronic feel of the 2001 version is supplanted by a balance of tight hip-hop beats and live instrumentation.
The song succeeds in large measure through its subtlety, allowing the listener space to focus on the details, from the contrasting key switches in the verses (listen to the transition at the 1:40 mark, as the ricocheting drums give way, and Jackson launches over a wave of horns) to the isolated harmonies in the bridge. Perhaps the most impressive moment comes in a second bridge at the 2:50 mark, after Jackson sings "This problem world won't bother me no more," when the momentum of the song suddenly stops. There is a kind of sublime tranquility as the harmonies repeat like a trance. Jerkins lets us hear Jackson's finger-snaps, giving the moment an intimate quality. Then the music intensifies: The funky rhythm guitar sneaks in, the deep bass re-emerges and Jackson ad-libs to the finish.
"I'm proud of it," says Jerkins of the final product. "The rhythms, 808s, and horns against MJ's vocal. It's intense. It's the perfect storm." Indeed, for all the updates, Jerkins leaves Jackson's virtuosic vocal front and center: urgent, pleading, gasping, soaring—longing to escape "a system in control, [that's] all ran by the book."
Both this updated version and the leaked version Jackson and Jerkins last recorded together will appear on the deluxe edition of Xscape. Jerkins doesn't know exactly how close he got to what Jackson would have wanted were he alive. But as the album deadline neared, he worked around the clock just as Jackson would have, listening for any last-second guidance. New rap verses were tested, including an incredible mix featuring Tupac, which was played at a listening party at Top of the Rock in New York City. (According to Epic Records executive Lauren Ceradini, this version will not appear on the album.)
After the party, as we descended in the illuminated Rockefeller Center elevator, Jerkins seemed both excited and relieved. When he began working with Jackson on Invincible in the late '90s, the artist painted a vision of what they would achieve with the album. That vision—and that album—were in many ways derailed by a charged (and very public) dispute between Jackson and then-Sony head Tommy Mottola. Seeing "Xscape"—and Jackson—back in the spotlight after all these years offered a kind of redemption. "It's amazing," says Jerkins, shaking his head. "You can't kill greatness."