All Children Are Heartless
The girl who invented Fairyland—and the books she's not writing for children, exactly.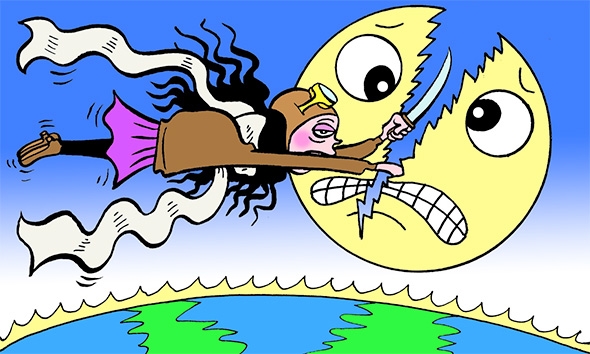 The third book in Catherynne M. Valente's Fairyland series, The Girl Who Soared Over Fairyland and Cut the Moon in Two, comes out this month, adding another volume to the award-winning series, which critics have praised for its ambition and imagination, as well as its odd, dark beauty. The Fairyland books follow a girl named September who journeys to Fairyland, encountering wonders, making friends and enemies, and saving Fairyland—most often from itself. Time's Lev Grossman described the series as "one of the most extraordinary works of fantasy, for adults or children, published so far this century."
But in conversations with other writers and editors, I've heard the books described as "inscrutable," "too challenging for middle grade," and "simply not for kids." In the New York Times, Marjorie Ingall called the series "exhausting" and "ill fit for the publisher's target audience." And it's true that Valente does tend to attract an older crowd of readers. At a recent Community Bookstore appearance in Brooklyn, the majority of her audience was twentysomething lit geeks whose questions for Valente were focused on her feminist outlook and background as a classics major.
Few would argue that there's anything wrong with a challenging middle grade book—some might claim that Fairyland is popular because it's challenging. But I suspect that the reason these detractors have difficulty categorizing the Fairyland series is because Valente is not trying to write middle grade fiction at all.
At the series' start, the protagonist September is a keen and clever 12-year-old. This third book, The Girl Who Soared, begins with September at 14, worrying that she's too old to return to Fairyland. But away she's whisked nonetheless, to stop the disruptive moon-yeti Ciderskin from shaking the moon into pieces. She is joined by her friends from the previous books—the blue marid Saturday and the "harooming" wyverary A-Through-L (part wyvern, part library). Though their adventures are exciting enough, the book's thematic core is September's vulnerable adolescent state, and her future in Fairyland. Readers have seen her grow from a "Somewhat Heartless" preteen to a girl with a "new, red" heart, a heart that's a "heap of tender and terrible wonders." It is September's heart that she fears will give her away in situations where she'd rather be "knowing and canny"—and which she also fears will get her kicked out of Fairyland.
This business about September's heart is one of Valente's most consistent nods to the classics of children's fantasy. In the series' first book, The Girl Who Circumnavigated Fairyland in a Ship of Her Own Making, we are told quite matter-of-factly that "all children are heartless." September, being somewhat grown already, is only Somewhat Heartless. This notion is lifted straight from J.M. Barrie's Peter and Wendy, the 1911 novel that most now simply call Peter Pan. The novel's final line:
"Every spring cleaning time, except when he forgets, Peter comes for Margaret and takes her to the Neverland. … When Margaret grows up, she will have a daughter, who is to be Peter's mother in turn; and thus it will go on, so long as children are gay and innocent and heartless."
Returning with the seasons, growing up, and heartlessness are as integral to Fairyland as they were to Peter Pan, and just as emotionally resonant. The reference and its prominence in September's story reads like a clear gesture of respect from Valente to Barrie for what he was able to accomplish. He created a novel for children that did not shirk from emotional complexity. Valente uses the familiar formula of Victorian children's novels such as Alice in Wonderland and Peter Pan, coupled with a decidedly arch Victorian tone. Playing within the bounds of this structure, she then creates a mishmash. Enter Greek mythology, epic poetry, folk legends, and fairy tales. She folds in nods to various cultures' hero stories in order to complement and complicate the familiar Victorian form, and also takes the time to unpack and question certain elements of these classic books that she finds troubling.
Writing on John Scalzi's Whatever blog last year, Valente stated that the impetus behind her writing is to take "the tropes of fairy tales and quests and folklore and portal fantasies and old school children's books. Add complexity. Add emotional crunchiness. Add poking with a big stick." Valente subverts her own referential formula by allowing this "emotional crunchiness"—complicated, frank interiority—to darken the books' plot developments and characterizations.