Slate is an Amazon affiliate and may receive a commission from purchases you make through our links.
The Birth of 33⅓
How Columbia Records won the battle of the speeds. Plus: Rare photos of Aretha, Streisand, Sinatra, and more.
On June 21, 1948, at a press conference at New York's Waldorf Astoria Hotel, CBS Board Chairman Ted Wallerstein announced that Columbia Records had designed a 12-inch, long-playing record, manufactured on unbreakable Vinylite, which contained up to 22½ minutes of music per side—and the label was ready to release recordings in the new formats right away. The new longer-playing records would be more durable than the standard 78s as well as, overall, less expensive: One 12-inch long-playing record featuring an entire symphony would cost $4.85, compared with $7.25 for an album of five conventional 78s containing the same symphony.
Wallerstein's announcement was astounding, and the public greeted the news enthusiastically. The very first long-playing recording, of Nathan Milstein performing Mendelssohn's Violin Concerto in E minor with the New York Philharmonic, Bruno Walter conducting, appeared in shops only a week after the press conference. By the end of 1948, Columbia had sold 1,250,000 long-playing records.
Nearly as remarkable as Columbia's announcement, in retrospect, was the refusal of its archrival, RCA Victor, to enter the long-playing field. CBS management had quietly apprised David Sarnoff, the head of RCA, about the breakthrough in April 1948, months ahead of the public announcement, with an offer to license the technology. Columbia presumed that if all the record companies released some version of the LP, the public's acceptance of and adaptation to the new format would proceed all the more smoothly. Wallerstein repeated the offer at the Waldorf press conference. Most of the other recording companies agreed, but RCA turned it down and, early in 1949, announced its own new development of a 7-inch unbreakable record that would play at 45-rpm. No less interested than Columbia in finding a solution to the problems in playing long-form musical pieces on 78s, RCA had developed a rapid record changer, which would allow listeners to stack a large number of records around oversized spindles above the turntable. The records, which played at 45 rpm, would then quickly and automatically drop to the turntable in ordered succession, creating a virtually uninterrupted flow of music. The goal was the same as that of CBS's microgroove LP; RCA simply pursued it with a different technology. Now, rather than switch to Columbia's long-play technology, RCA would fight.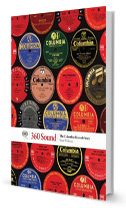 What has since been called "the battle of the speeds" continued for more than a year. Finally, in January 1950, having lost $4.5 million as well as some valuable artists such as the opera singer Ezio Pinza (other artists including Artur Rubenstein and Jascha Heifetz were threatening to leave as well), RCA threw in the towel and announced it would market its own 33⅓-rpm long-playing records. RCA's efforts with the rapid record changer were not totally futile; indeed, for 30 years the 45 would be the industry's favored medium for pop singles, as well as for automatic jukeboxes, which benefited from RCA's new changer design. (Columbia even began issuing its own 45s in 1951.) But for most record buyers, Columbia's victory in the speeds battle provided reassurance that the 33⅓-rpm LP was not a gimmick and could be purchased with confidence for every variety of music.
The LP revolution would change the way classical, jazz, pop, and theatrical music would be recorded. And the company's popularization of high-fidelity, stereo recording—"360 Sound"—in the 1950s changed things yet again. Columbia's midcentury roster of talent seized these opportunities to record some of the greatest music ever made.