Slate is an Amazon affiliate and may receive a commission from purchases you make through our links.
Boss Dan Kois Around
John Dean's wife's steamy novel? A Clueless novelization? A guide to barns? Tell our books editor which thrift-store discovery to review.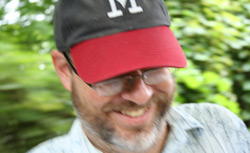 "Assign me a book to review this month!"
Dan Kois
Slate Book Review editor
While I often review brand new hardcovers just like every book editor should, I also really enjoy ferreting obscure, unfashionable, or forgotten books out of America's bookshops, thrift stores, and sidewalk giveaways. Finding Jerry Glanville's terrible autobiography in a North Carolina Goodwill led to this piece about NFL memoirs; stumbling across a great self-published Choose Your Own Adventure novel in Portland led to this awestruck review. I'm always on the lookout for this stuff, which offers a window into what Americans thought was worth reading—or at least owning—in days of yore, but it's hard to shrug off the always-churning release schedule and write about them.
Which Thrift-Store Treasure Should I Review?
This poll will close at 12 a.m. on Saturday, October 27.
An Age of Barns by Eric Sloane (1967)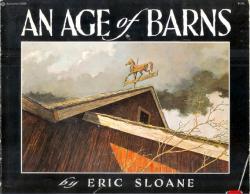 This handsome book seems to straight up be about barns, mostly barns of the Northeast, mostly the last remaining 18th- and 19th-century barns of the Northeast, most of which have, 45 years after publication, either collapsed, been knocked down, or been gutted and converted to guest houses for country estates. Purchased for $3 at a rummage sale in rural Connecticut.
Back cover copy: "In doing research for a series of paintings of early American barns, [Sloane] was surprised to find that very little had been written about them. He decided to remedy the situation, and An Age of Barns is the result—a book that will long remain a collector's item. It is a welcome addition to Mr. Sloane's other books on Americana: Diary of an Early American Boy, A Museum of Early American Tools and A Reverence for Wood."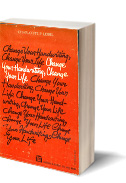 Change Your Handwriting, Change Your Life by Charlotte P. Leibel (1972)
"Handwriting" was what people used to do when they couldn't write everything on their phones. This trim paperback promises to allow readers to analyze their own handwriting, including such elements as "pressure, slant, spacing, regularity, legibility, width, and letter formation." Plus, readers can eliminate negative handwriting habits and bring about positive change in their personalities. Purchased for 25 cents at a Goodwill in Arlington, Va.

Back cover copy: "Charlotte P. Leibel has a degree in law, and has studied pharmacology, psychology, and sociology. She has her own radio interview show in Miami Beach."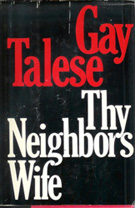 Thy Neighbor's Wife by Gay Talese (1980)
America's greatest living journalist wrote this, his book most likely to make you totally embarrassed when meeting him at a party, about his investigation of American sexuality in the '70s. Purchased for $1 at a thrift store in Kitty Hawk, N.C.

Flap copy: "We meet the prophets of the new sexuality: Hugh Hefner, Alex Comfort, and others. We meet couples whose buttoned-down lives were transformed by sexual liberation. We are privy to their thoughts, their fantasies, their actions as that transformation is played out against a changing sexual landscape."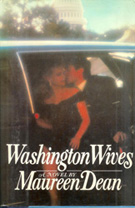 Washington Wives by Maureen Dean (1987)
The White House chief of staff is found dead in an expensive hotel room—and the wife of a rival was with him. "In a city where secrets are lethal ammunition and blackmail's the ultimate strategy," the wife of Watergate figure John Dean tells an "explosively revealing" story exposing the seedy underbelly of Washington society. Purchased for 50 cents at a Salvation Army store in Milwaukee, Wis.
Flap copy: "JAN KIRKLAND is the boarding school-proper daughter of Ambassador 'Buck' Sumner, who has helped make Jan and her Presidential Press Secretary husband Washington's most beautiful couple. They've got a limitless future—unless a dark secret from the past ruins everything."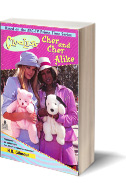 Clueless™: Cher and Cher Alike by H.B. Gilmour (1997)
The spin-off TV series based on Amy Heckerling's all-time classic 1995 movie supplied America with at least one lasting memento: This quickie paperback tells the story of Sharon, a grungy classmate who, after a makeover from Cher, turns into our hero's evil twin. Plucked from a box of free books on a Brooklyn, N.Y., stoop.
Back cover copy: "Talk about coincidence. For English, Cher's reading Frankenstein, the classic horror hair-raiser about a guy who creates a monster that goes, like, totally postal. And now Cher's creation, Sharon, is turning into a psycho-clone."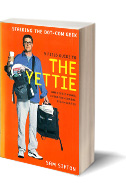 A Field Guide to the Yettie by Sam Sifton (2000)
Once upon a time, a young reporter for a hot new magazine wrote a story about the legions of dot-com workers, calling them Yetties: Young Entrepreneurial Technocrats. Then, Sam Sifton of Talk magazine wrote an entire book about Yetties for Talk Miramax Books and got blurbs from Kurt Andersen and Ken Auletta. Much, much later, Sifton became the Times' restaurant critic and national desk editor, but let's look back on this, the most 2000-y book ever published. Purchased for $4 at a used bookstore in San Francisco.
Back cover copy: "From content-providing mouse jockeys to power-mad cyberlord CEOs, A Field Guide to the Yettie is the ultimate manual for recognizing over twenty different subspecies of yettie."