Lebowitz Goes Electric
Fran Lebowitz finally records her own audiobooks. Listen to her classic essay "Writing: A Life Sentence."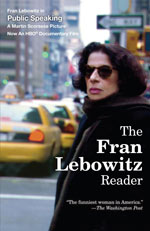 The essays Fran Lebowitz wrote for Interview and Mademoiselle in the 1970s were jaded, sharp-edged, and hilarious. Lebowitz's voice is inimitable, and that's why it's always been such a shame that Lebowitz never recorded herself reading those essays. Until now. This month, Random House Audio finally releases The Fran Lebowitz Reader on audio, read by Lebowitz herself. We're pleased to present, in full, Lebowitz's classic essay "Writing: A Life Sentence," as read by the woman herself.
TODAY IN SLATE
Foreigners
More Than Scottish Pride
Scotland's referendum isn't about nationalism. It's about a system that failed, and a new generation looking to take a chance on itself.