Fifty Shades of Grey Is Not a "Good" Movie. I Loved It.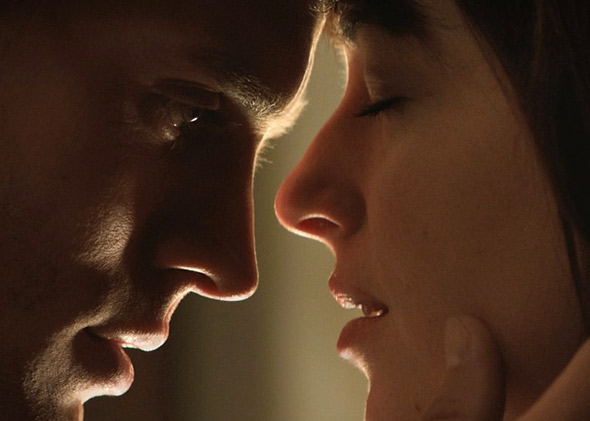 After you've seen Fifty Shades of Grey, come back and listen to Amanda Hess, Dan Kois, and Dana Stevens discuss the film in Slate's Spoiler Special:
Fifty Shades of Grey is a ridiculous movie. Why are the main characters, Christian Grey and Anastasia Steele, named like 19th-century ballerinas? How is it that newcomer Dakota Johnson (Ana) manages to come off so wry, stunning, and sensitive, while recovered Calvin Klein model Jamie Dornan (Christian) rolls through the movie like a Brooks Brothers mannequin? BTW, how is Christian just 27 years old but has already amassed, like, a billion dollars? ("Telecommunications"?) Wait—Rita Ora's in this? At one point, Christian steals away to a corner of his penthouse to plunk sadly at his grand piano (LOL). But then, Anastasia drops her robe, straddles him on the bench, and he carries her off to bed in his capable arms, and, uhhhh: Are you turned on by Fifty Shades of Grey right now?
In a 2013 Sexualities article, academics Sarah Harman and Bethan Jones posited that "anti-fans" of Fifty Shades have been more central to its wild popularity than sincere readers of the book. Hate-readers argued over, obsessed, and reenacted the book with the zeal of true believers; perhaps they're even secretly responsible for the book's best-seller status. "One wonders whether this constructed Other of the 'vanilla' housewife, the undiscerning reader of 'trash', truly exists except as an imagined spectre," Harman and Jones write. Perhaps for most readers of the book, it's actually the hate-reading experience that "offers the real readerly pleasures of performing and sharing distinctions of taste." Emma Green reports in the Atlantic that contrary to the aging housewife stereotype, "about a third of the people who bought the books in the U.S. were actually 18 to 29 years old."
Fifty Shades of Grey began as racy online fan fiction inspired by the tween vampire romance series Twilight. A middle-aged British Twihard named Erika Leonard, writing under the handle Snowqueen Icedragon, recast Twilight's romantic leads as a Pacific Northwest college student and a handsome local billionaire, but the shuffled details do not matter—the whole thing was just a pretext to inject some kinky sex into their chaste relationship. "I'm not a great author," Leonard, now going as E.L. James, admitted when her story was republished in novel form by Random House and, to her bemusement, debuted as an instant best-seller. But as James' fan-fic amassed a fandom of its own, she started to take herself more seriously, and even earned the ire of Twilight author Stephenie Meyer, who has denounced the books as "too smutty" for her bookshelf.
Now, Fifty Shades the movie has emerged as a kind of fan-fic of Fifty Shades the book, and the leap from page to screen has also opened a rift between author and imitator. Director Sam Taylor-Johnson and E.L. James reportedly feuded on set as Taylor-Johnson struggled to wrest control of the story from James. The end product does not abdicate its responsibility to titillate, but it fills its sex scenes with exaggerated winks to the hate-reader. And as the movie's attitude toward itself ping-pongs between deprecation and indulgence, it allows the audience to feel superior to the source material while experiencing the guilty pleasure of discovering that maybe they actually really like this stuff. The book only did the latter.
Fifty Shades of Grey is not a "good" movie, but it's a mistake to judge it like any other: Buying into the Fifty Shades experience is more like purchasing a ticket to a funhouse tour through Fifty Shades' weird, wild fandom. The Anastasia Steele of the book is an aww-shucks virgin in constant dialogue with her "inner goddess," but the Anastasia of the movie is a stand-in for the Fifty Shades skeptic—the literal plot finds her seduced into the kinky world of Christian, but the obvious subtext is that our heroine has fallen down the rabbit hole of the cultural phenomenon of Fifty Shades itself. Director Taylor-Johnson says she deliberately recast the story in the image of a "a deep, dark, romantic adult fairy tale," and the film is riddled with references to Alice in Wonderland (Anastasia wakes up with a hangover to find that Christian has left her painkillers marked "eat me" and juice marked "drink me"), and Beauty and the Beast (this time, the mysterious beast with the opulent mansion is already ridiculously good-looking, and the heroine is tasked with transforming him from a tortured control freak and into a regular boyfriend). The audience already knows Christian's "terrible" secret, and the film exploits our ironic awareness that the sweet, innocent Ana is pratfalling straight into his dungeon. Right before Christian lets her into his "playroom" for the first time, she asks if they're going to play his Xbox.
Some scenes in Fifty Shades play like viral parodies—those late-night talk show routines where a celebrity is forced to keep a straight face while reading lines like "I'm 50 shades of fucked up!" and "I don't make love. I fuck. Hard!" Then there's a warmly silly Dancing With the Stars routine, as Christian and Ana rub cheeks and bop around his austere modern apartment. And a glamour porn clip—Christian tears open Ana's sports bra and blindfolds her with her own T-shirt—which inevitably leads to more disturbing fare, as Christian angrily whips Ana's naked ass with his belt while she cries in pain.
The soundtrack—Annie Lennox, Sia, a breathy Beyoncé retread of "Crazy in Love"—is a Spotify playlist from a woman with good but unpretentious taste. And the scene where Anastasia and Christian sit at opposite ends of a low-lit conference table to negotiate the terms of their dom-sub contract plays like a Funny or Die video ribbing the concept of affirmative consent. Ana wryly nixes anal fisting and vaginal fisting; Christian agrees to a scheduled romantic date, up to and including ice-skating, once a week. Ana blurts out "what's a butt plug?" just as his leggy assistants walk in the door.
The Fifty Shades team has done an expert job capitalizing on its sophisticated guilty-pleasure appeal. Though Charlie Hunnam, the bad boy biker of FX's Sons of Anarchy, was originally tapped for the role of Christian, he was soon replaced by Dornan, best known to discerning Netflix watchers as the sexy serial killer of the feminist BBC thriller The Fall. On the Tonight Show, Dornan joined Jimmy Fallon to mock the book by reading its most absurd passages aloud in various ridiculous accents (all are better than the terrible American imitation the Northern Irish Dornan attempts in the film). And Jezebel has gleefully reported on how, in every appearance on their obligatory PR tour for the movie, Dornan and Johnson look constipated at best. The nasty gossip that bubbled up on the set about creative differences between author James and director Taylor-Johnson also functioned as a wink to the hate-readers: This adaptation makes E.L. James mad, so it might just please you. The very idea of all these skilled, funny, sophisticated professionals sinking millions of dollars into such a dumb book is thrilling in its extravagance. Jamie Dornan showed the top of his penis for this!
Pandering to ironic and sincere viewers at the same time is more than a clever marketing tactic. Pairing the humorous with the erotic produces a sensation of nervous, off-kilter euphoria; laughter and sex both leave you flushed, tingly, a little out of control. I left the movie feeling like I'd just been on a first date with someone I'd secretly crushed on for a long time. I'd definitely see it again.