The February Cover of Cosmo Does Not Show a Suffocating Woman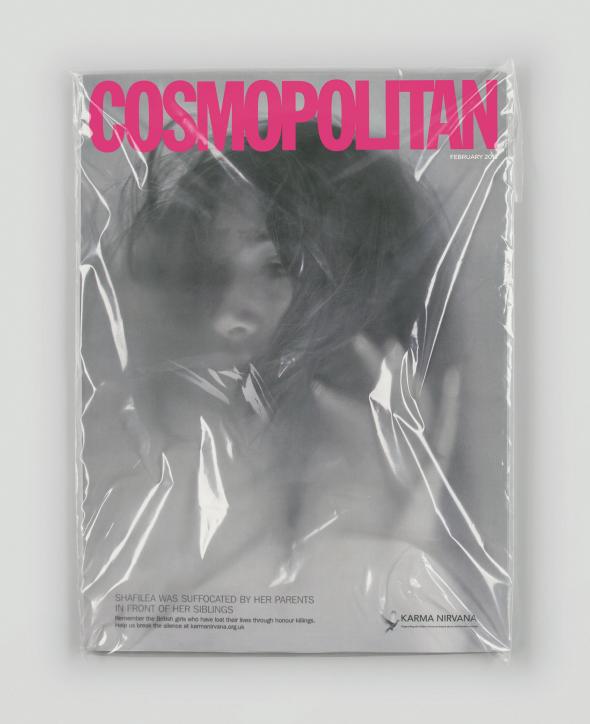 The Internet is abuzz with images of a limited-edition February cover of Cosmopolitan UK featuring a foggy photograph of a model with her hair disheveled and her hand reaching out for help—designed to look as if she's suffocating inside the magazine's plastic wrapping. The image is inspired by Shafilea Ahmed, a British Pakistani girl who was murdered by her parents in 2003 at the age of 17: After Ahmed rejected a suitor that her parents had arranged for her to marry, her father forced a plastic bag down her throat and suffocated her to death. Stylite calls the cover "provocative, powerful, and potentially polarizing"; Business Insider deems it "truly shocking."
It's also not really the February cover of Cosmo. It's a mocked-up image that's been circulated as a part of Cosmo's campaign, alongside the U.K.-based charity Karma Nirvana, to establish a day of remembrance to commemorate victims of honor killings and raise awareness about the issue. Last July, Cosmo commissioned three ad agencies to "design an iconic image" for the campaign, and Leo Burnett came up with one that riffs on the look of the Cosmo cover. A Cosmopolitan representative told Slate that "the image has been used for promotional use in a mocked-up cover wrapped around the magazine. … It is not a cover that is available to buy on the newsstand—readers can't purchase it. Our February issue has been on sale for nearly two weeks, and does not feature the image that Leo Burnett created." Instead, the February cover features Khloe Kardashian talking about "Justin Bieber, sex, and doing the dishes." It does not reference honor killings or domestic abuse.
As part of the fake-cover campaign, the magazine also made a short video titled "Breaking Free," which shows a woman ripping off the plastic. The idea is that by opening Cosmo, you can gain awareness about honor killings and thus help save their victims (even if no one can actually open this Cosmo).
Comments on Cosmopolitan UK's Vine of the mock cover include "What," "What," "What," and "Wat?" I'm with them. It's an alarming image, and it compelled me to learn more about Ahmed's tragic death, which I'd never heard about before. Still, it's a little unsettling for Cosmopolitan to symbolically package its magazine inside a murder weapon. I'd love for Cosmo to find a middle ground between a shocking fake cover and the expected Kardashian one—like a real cover that actually points readers to a story about the issue. Khloe has been mentioned on the magazine's website more than 1,000 times; honor killings, just 14.