The Problem With That Catcalling Video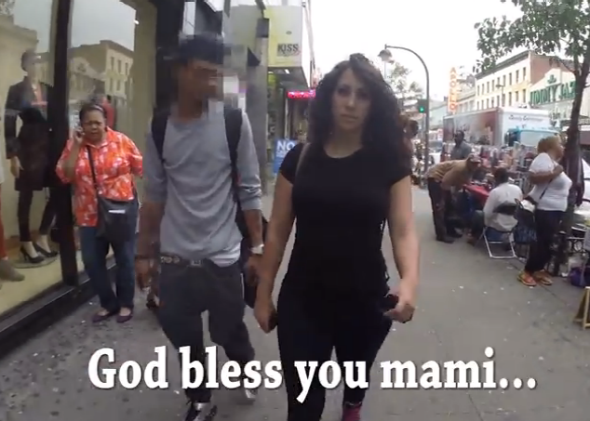 On Tuesday, Slate and everyone else posted a video of a woman who is harassed more than 100 times by men as she walks around New York City for 10 hours. More specifically, it's a video of a young white woman who is harassed by mostly black and Latino men as she walks around New York City for 10 hours. The one dude who turns around and says, "Nice," is white, but the guys who do the most egregious things—like the one who harangues her, "Somebody's acknowledging you for being beautiful! You should say thank you more," or the one who follows her down the street too closely for five whole minutes—are not.
This doesn't mean that the video doesn't still effectively make its point: that a woman can't walk down the street lost in her own thoughts, that men feel totally free to demand her attention and get annoyed when she doesn't respond, that a woman can't be at ease in public spaces in the same way a man can. But the video also unintentionally makes another point: that harassers are mostly black and Latino, and hanging out on the streets in midday in clothes that suggest they are not on their lunch break. As Roxane Gay tweeted, "The racial politics of the video are fucked up. Like, she didn't walk through any white neighborhoods?"
The video is a collaboration between Hollaback, an anti-street harassment organization, and the marketing agency Rob Bliss Creative. At the end they claim the woman experienced 100-plus incidents of harassment "involving people of all backgrounds." Since that obviously doesn't show up in the video, Bliss addressed it in a post. He wrote, "We got a fair amount of white guys, but for whatever reason, a lot of what they said was in passing, or off camera," or was ruined by a siren or other noise. The final product, he writes, "is not a perfect representation of everything that happened." That may be true but if you find yourself editing out all the catcalling white guys, maybe you should try another take.
This is not the first time Bliss has been called out for race blindness. In a video to promote Grand Rapids, Michigan, he was criticized for making a city that's a third minority and a quarter poor look like it was filled with people who have "been reincarnated from those peppy family-style 1970s musical acts from Disney World or Knott's Berry Farm," as a local blogger wrote.
Activism is never perfectly executed. We can just conclude that they caught a small slice of catcallers, and lots of other men do it, too. But if the point of this video is to teach men about the day-to-day reality of women, then this video doesn't hit its target. The men who are sitting in their offices or in cafes watching this video will instead be able to comfortably assure themselves that they don't have time to sit on hydrants in the middle of the day and can't properly pronounce "mami." They might do things to women that are worse than catcalling, but this is not their sin.
A really good video about catcalling actually already exists. In "Jessica's Feminized Atmosphere," Jessica Williams of the Daily Show covers the whole range of street harassment, from construction workers (of all races) to security guards to Wall Street "douche bags" to teenagers hanging on the corner. She and a group of women lay down pins on places in New York to avoid and by the end, the entire map is covered. There are race and class issues latent in her video, too. She is black, and the women she gathers for her discussion group are all races. But you don't leave with that icky impression of a white woman under assault by the big bad city. Plus, she has the group demonstrate the armor they wear while walking down the street, which turns into a glorious mosaic of bitch face.