Julie Chen Got Plastic Surgery Because Her "Asian Eyes" Hurt Her Career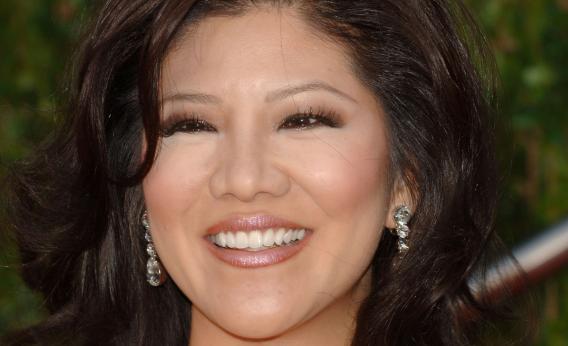 The five hosts of The Talk have been divulging secrets all week. When Julie Chen's turn came around, she started by showing a clip of her 25-year-old self newscasting for a local network in Dayton, Ohio. "The problem was in the solution!" 25-year-old Chen chirped. She looked great: poised, expressive, already in command.
But, today's Chen went on to reveal, her boss at the time didn't think so. After the up-and-coming Chen offered to fill in for vacationing anchors over the holidays, he gave it to her straight. "You will never be on this anchor desk, because you're Chinese," she recalls him telling her.
"He said 'Let's face it Julie, how relatable are you to our community? How big of an Asian community do we really have in Dayton? ... On top of that because of your heritage, because of your Asian eyes, I've noticed that when you're on camera, when you're interviewing someone you look disinterested and bored because your eyes are so heavy, they are so small.'"
Chen's reaction was heartbreaking: She developed a deep insecurity around her eyes. She started taping her segments on a VCR and playing them back at the end of the workday, evaluating the heaviness of her lids. Though she knew her boss was being racist, she worried he might be right about her career. When a "big time agent" refused to represent her unless she "got plastic surgery to make [her] eyes look bigger"—the man then "whipped out a list of plastic surgeons" and assured her a few swipes of the scalpel would take her "straight to the top"—Chen decided to go for it.
"I will say, after I had that done, the ball did roll for me. Which I struggle with. You know, wow. Did I give in to 'the man' and do this?" she asks the ladies of The Talk.
On cue, they uncork the validation: "Fabulous!" "More expressive!" "It was the right thing to do." Chen points out that she now looks "more alert," and Sheryl Underwood lauds her for "representing [her] people, [her] race, women, and [her] colleagues." Sara Gilbert tells her she is beautiful and brave.
"My lifelong dream was to one day be a network news anchor," Chen reveals early in the segment. You could argue that Chen sacrificed one part of herself to save another; that she ultimately achieved a platform from which she could advance our conversations about race more effectively than if she'd remained obscure. And certainly her talking about this now does that. But career aspirations should not have required her to tone down her ethnicity. "No one's more proud of being Chinese than I am," Chen told her colleagues. The way she talks about her old eyelids—"too much fat," "excess skin"—doesn't quite line up with that statement. I wonder how she'd feel about those eyes if they were still hers?
The pressure Chen faced was vile, unfair—and worth resisting. We know the problem: racism. But also: The problem was in the solution.