Why Did Romney Lose? Conservatives Blame Single Women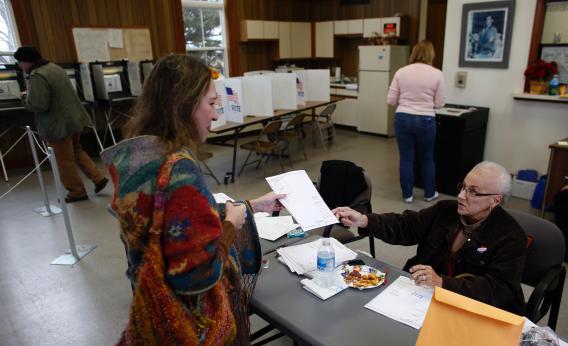 Now that the shock of losing has settled in, the conservative media has moved on to the important task of castigating the various demographics that broke for Obama, a reaction that can in no way be one of the reasons said demographics dislike Republicans. Since Obama won basically everyone but nonurban white men and their wives, there are a lot of different groups to hate on, but a clear front-runner in the Blame Game has emerged: single women, who gave 68 percent of their vote to Obama, compared to 53 percent of married women who voted for Romney.
There are many reasons for this divergence, including age, income, and racial differences between the single and married women, but right-wing media looks to be settling on a favorite explanation: Loose gals vote Obama. Unlike, say, Sean Hannity's now evolving position on immigration, clearly morphing in order to somehow get his guys a few Latino votes, this impulse to label single women as sluts is certainly no one's idea of voter outreach. But it does serve the dual purpose of demonizing Obama voters and reminding Fox News and rightwing talk radio audiences of their favorite porn narratives. Laura Ingraham, sitting in as host of The O'Reilly Factor last night, brought together a panel of church ladies to sneer at the unmarried and their wanton ways:
The overall narrative of the segment is, to paraphrase: Single women are so obsessed with birth control and abortion that they can't be bothered to care about the economy or even take care of their kids. There were many jaw-droppers during the segment, but my favorite might be Gretchen Carlson saying that married women vote more on the economy, "because when you're married, abortion is not really—or contraception for that matter—is not maybe a huge part of your life." In Carlson's bizarro world, only single women have sex and only married women have kids. (Contrary to any stereotypes trotted out on Fox News, married people have more sex than single people, so you really shouldn't put "getting laid more" on your list of reasons to avoid the institution.)
Other right-wing pundits were even more crass. Andrea Tantaros accused single women of voting for no other reason than wanting "free" birth control. Rush Limbaugh was his usual delightful self on the topic of single women having sex that doesn't involve him, saying that by being pro-choice, Obama treats women "like vaginas" and that Republicans need to "start our own abortion industry" to get women's vote.
Reproductive rights do matter to female voters, as I'm the first to say. Some male voters, too, the ones who remember what conservatives apparently forget, which is that sex without making a baby every time is a winning proposition for men, too. But there's no reason to assume that if Romney and Obama had the same views on contraception access and abortion rights, that Romney would have cleaned up those single female voters. Like married women, single women do vote on economic issues, of which the ability to control how many kids you have to feed is but one. Carlson gets close in the above segment to admitting this, but she frames it as single women being "dependent" on the government, completely ignoring government programs that married women are more likely to benefit from, such as the mortgage deduction or the new tax breaks for married couples.
None of these pundits even consider the possibility that it's not just single women who think about reproductive rights when they vote, but that plenty of other Americans—some loyal viewers of Fox News, I would imagine—also vote on reproductive rights, specifically to take those rights away. Perhaps the real truth is that if everyone just gave up on the sex and gender wars and let people do their thing, it's not the Republicans who would benefit.