New Todd Akin Videos Reveal His Dystopian Nightmare Vision of America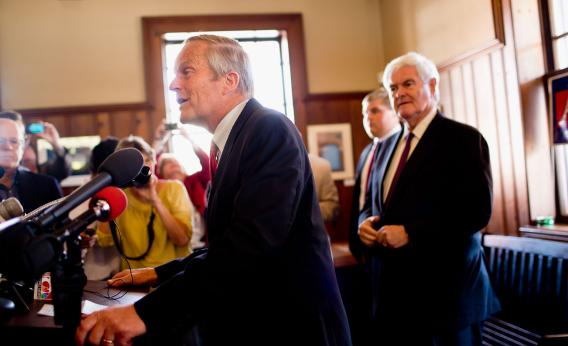 After becoming a national scandal with his claims that "legitimate rape" cannot result in pregnancy, Rep. Todd Akin has been slowly regaining lost ground in the contest against incumbent Sen. Claire McCaskill for a Missouri Senate seat. Akin's strategy has been to characterize the remark as a mere misspeaking that is not indicative of his larger character, and the strategy must be working, because at least one poll has him up by one percentage point.

But the left-wing PAC American Bridge 21st Century pointed me toward some C-SPAN videos that make it very difficult to take the "legitimate rape" thing as an anomaly.
One revealing glimpse into the Akin worldview: May 24, 2005, Akin's speech denouncing stem cell research on the House floor. It's a marvel of right-wing paranoia in which he fantasizes about what will happen if stem cell research continues—if it reaches what he calls "step three"—based on a story about harvesting organs from real humans that his daughter wrote:
My own daughter wrote a little story—I will read it—about step three. "I live with 40 others in a compound, supervised by cool, efficient orderlies. Instead of playing, I stood pondering a troubling dream from the night before. It was of a loving father, giving his child a name. I've always been just 5-25-61-B."
Here's a clip of the speech, in which he also drops this gem of a quote characterizing women as climate control and food distribution systems: "Now an embryo may seem like some scientific or laboratory term, but in fact the embryo contains the unique information that defines a person. All you add is food and climate control, and some time, and the embryo becomes you or me."

Daily Kos did some minor reporting on Akin's weird ideas about abortion providers, but watching the full speech Akin gave on Jan. 22, 2008, reveals that his statement, "And yet we have terrorists in our own culture called abortionists," is just a minor part of an elaborate fantasy about who abortion providers are, what they do, and why they do it.
Who wants to be at the very bottom of the food chain of the medical profession? And what sort of places do these bottom-of-the-food-chain doctors work in? Places that are really a pit. You find that along with the culture of death go all kinds of other law-breaking: not following good sanitary procedure, giving abortions to women who are not actually pregnant, cheating on taxes, all these kinds of things, misuse of anesthetics so that people die or almost die. All of these things are common practice, and all of that information is available for America.
It is clearly lost on Akin that the image he's invoking—of dirty clinics that operate illegally and misuse pain medication—is the reality he's trying to create. He wants to ban abortion, which is a surefire way to get a whole bunch of illegal, underground clinics that aren't held accountable to standard medical practice. If you want clean, safe abortion, you need it to be legal.