Sun Rises, Female French Minister Gets Heckled by Colleagues, Sun Sets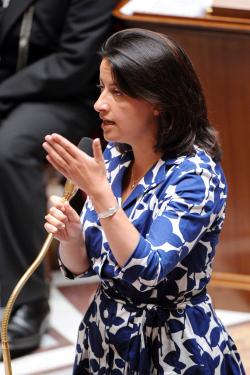 It's just another Tuesday at the French Parliament. A minister of the newly appointed socialist government stands to speak. She's a woman. She's wearing a dress. A floral dress. The hem hits below the knee and the neckline shows little cleavage but the right-wing lawmakers in the room can hardly contain themselves. They start hooting and oohing as she takes the microphone. It's difficult to hear the beginning of her address.
"Ladies and gentlemen," Cécile Duflot says. "Obviously, more gentlemen than ladies," she adds after a short pause. The French housing minister, otherwise famous for sporting jeans to a Cabinet meeting, goes on to finish her speech.
This scene took place at the beginning of the week. Since then, a video of the incident posted online has caused outrage in France. Especially after one of the happy hecklers, Patrick Balkany, told the right-leaning paper Le Figaro that he was only "admiring" Duflot's looks and that she probably "put on that dress so that we wouldn't listen to what she was saying." Understand: In France, male politicians are easily distracted. Or perhaps they're just pigs.
Duflot's reception wasn't a one-off in the Parisian hemicycle, the semicircular room where the National Assembly meets. Only most of the time women politicians prefer to keep quiet: They don't want to come across as complaining. Still, after the Dominique Strauss-Kahn affair blew up last year, female Parliamentary representatives started opening up about years of what the French call "ordinary sexism." Talking at the podium, like Duflot did last Tuesday, makes them easy targets. "When you go to the 'roost,' some subjects are treated in a rather peculiar way," a female legislator told the Parliamentary chain. "You get comments on your looks or even on your underwear." And things can get worse. Like when a young representative has to slap her colleague after he jokes that he's going to show her "the difference between giving a blowjob for a minute and getting sodomized for a minute." Or when another woman has to listen to the guy sitting next to her ask if she's "going to get laid" every time she leaves the room.
Francoise Giroud, one of the first female ministers in France, once explained that "men can't bear the intrusion of a desirable woman in their field, but they can take a woman who has a maternal image because they're used to their mothers' judgment and reprimands." In reality, they can't stand mothers either. Duflot, the minister who dared wear a feminine outfit to work, was criticized for being a mom by men on her side of the political spectrum when she took her own party's lead. "What? We can't put a woman who has several kids in the direction of our party," she says she heard when her name was proposed at a meeting.
With the new socialist government, many hope things will change. As soon as Francois Hollande was sworn in, he gave half the seats of his government to women. The number of female MPs went up from 19 percent to 27 percent at the National Assembly. Not quite égalité yet, but it's a start. Asked about her macho colleagues on the radio this morning, Duflot took an optimistic view: "There are a lot of men who do politics who aren't like that; there are a lot of men who don't do politics who aren't like that" she said. "I'd rather think about them. I'd rather think about feminist men." Us too.