Donald Trump Enters Anti-Vaccine Quack Territory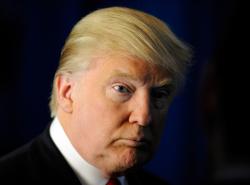 On Monday morning's Fox & Friends, Trump helped kick off Autism Awareness Month by spouting some boring, boilerplate nonsense about the (shattered) link between autism and vaccines.
Trump apparently buys into the "too many, too soon" idea. That is currently anti-vaccine activists' favored argument, having replaced mercury.

"I'm all for vaccinations, but I think that when you add all of these vaccinations together and then two months later the baby is so different … I've known cases," he says. When co-host Gretch Carlson interrupts him to say that most physicians disagree with this position, he dismisses the idea: "Yeah, I know they do. … I couldn't care less." (At least he didn't say "could care less.") Watch the video, via Media Matters:

Trump can't even endorse crazy conspiracy theories without name-dropping: He says that he became involved with autism because of his "great friends, Bob and Suzanne Wright." Bob, who was once chairman of NBC Universal, and his wife co-founded the powerful organization Autism Speaks after their grandson Christian was diagnosed with the disorder. In 2007, Bob and Suzanne publicly battled with their daughter Katie, Christian's mother, over Autism Speaks' approach to the vaccine-autism debate. Katie was firmly in the anti-vaccine camp, while others in the organization, including her parents, wanted to focus less on immunization. Still, Autism Speaks continued to say that more research into vaccines was necessary. Bob supported that position, telling Newsweek in 2009, "We all know that autism has genetic causes, but it's highly associated with environmental factors we can't get our hands around," says Wright. "Vaccines fall into that category." That sort of thinking led one Autism Speaks executive, Alison Singer, to resign: "In general, I disagree with a policy that says, "Despite what this study shows, more studies should be done,' " she said in the same Newsweek piece.

Soon after, Autism Speaks "softened" its position on vaccines. The group's official position now is that no studies have uncovered a link between autism and vaccines. But some in the skeptic community—which fights pseudoscience—remain, well, skeptical of Autism Speaks; the surgeon behind the blog Respectful Insolence accuses it of harboring "watered-down" anti-vaccine sentiment. Indeed, its policy statement says it "remains possible that, in rare cases, immunization might trigger the onset of autism symptoms in a child with an underlying medical or genetic condition."

This isn't Trump's first venture into the fringe fray. Last year, during his ill-fated presidential run, he expressed some birther sympathies.