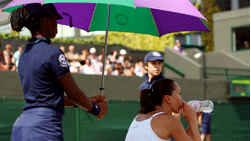 Last weekend, 17-year-old, Marietta, Ga. native Melanie Oudin beat 24-year-old, sixth-seeded Serbian Jelena Jankovic in a surprise upset at Wimbledon. Earlier this year, Jankovic was ranked No. 1 in the world. This is Oudin's first Wimbledon.
After the match, Oudin scored critical praise for her ability to get herself out of scrappy situations. Jankovic begged to differ: "She doesn't have any weapons, from what I've seen."
According to the more experienced tennis player, she lost because she wasn't feeling well. In other words, she blamed it on her period.
"It's not easy being a woman, sometimes," Jankovic said. "All these things happen. What can I do? After the first set, I felt really dizzy, and I thought that I was just going to end up in the hospital. I started to shake. I was losing my-how you say-consciousness. I was really going to lose it, you know, to fall down and just, you know, probably go-call the ambulance and leave the court."
Bridget Crawford at Feminist Law Professors suggest s Jankovic was looking for pity from male sportswriters: "Maybe Jankovic had cramps. But unless she takes to her bed each month, a world-class athlete probably has played (well) with cramps before. More likely, Jankovic is making excuses for her poor performance and thought she'd get a 'pass' from the mostly male sportswriters," she writes.
Whatever the case, it seems we'll have to add "woman issues" to sore loser excuses. If all else fails, you can always blame it on the ovaries.
Photograph of Jelena Jankovic by Ian Walton/Getty Images.