Of Course the Neda Video Is a Snuff Movie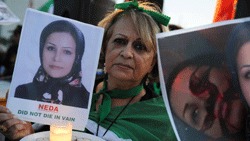 Yes, Dana , you're absolutely right that the Neda video, in which a young Iranian woman is shot and killed during the post-election protests, is a snuff movie. "And the fact that 'Neda' is a young and pretty woman" has absolutely played a part in the YouTube clip's rise to infamy. This isn't to diminish the content of it. It is a horrifying, saddening, frantic look at a woman dying in the street.
But I don't think that's exactly what we're talking about here. We're talking about the something else the video becomes when its focus and attendant narrative take on the qualities of martyr and myth . The video becomes something else altogether, something that, more often than not, is more about us than the subject itself.
We watch the video not purely for political reasons, but also because we are curious. About life, and death, and what happened. And in that, it becomes a form of entertainment. We fetishize it, its story, and its characters. And it's fair to wonder about why we do that, what purpose that serves. The vitriolic comments Dana's post received suggest that some are hell-bent on holding on to one meaning of the story. But it's not that simple. The video itself spawns a collective narrative through which we all speak in myriad, conflicting voices.
No, like a "true" snuff movie, the video was not created for the purpose of entertainment. Although why it was created, at least for now, remains something of a mystery. One man stood over Neda and videotaped her while she died. Somebody else uploaded it to the Internet. Now, we disseminate it. It plays before our eyes, enigmatic, and we imbue it with meaning.
It reminds me a bit of the character of Laura Palmer from Twin Peaks , a dead girl whom everybody fetishized, in death more so than in life.
Photograph of Iranian protester by Mark Ralston/AFP/Getty Images.