Missouri's Governor: Cops Released Mike Brown Robbery Video to "Besmirch" Him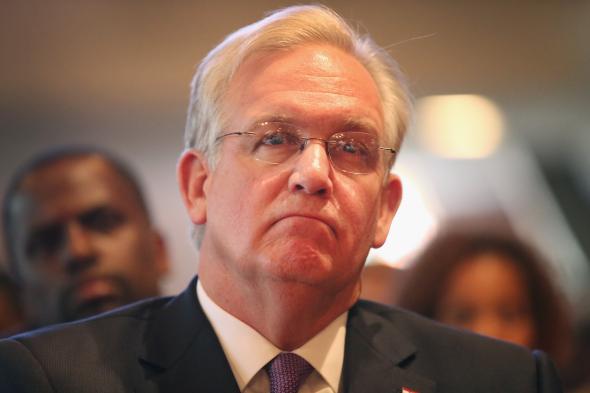 Missouri's Democratic governor, Jay Nixon, was one of the goats of last week's Ferguson coverage. He did not spring into action when protests began in the suburb of St. Louis. Only after two journalists were illegally detained by cops who wouldn't give their identities, and the story exploded, did Nixon come to Ferguson and start making orders.
He's in it now. This morning Nixon issued an executive order that will send the National Guard to Ferguson. Half a day earlier, he appeared on Face the Nation and criticized the decision of Ferguson police to release a surveillance tape showing Michael Brown apparently robbing a store.
"It had an incendiary effect," said Nixon. "When you release pictures and you clearly are attempting to besmirch the victim of a shooting ... there are a lot of folks who are concerned about that."
Nixon, in other words, agrees with the Obama administration. NBC News has reported that Eric Holder's DOJ urged the police not to release the video. Over at Breitbart.com, this is seen as a stumble that allowed a "gentle giant narrative" about Brown to take hold, only to be shattered. But think about the timeline. On Aug. 13, the reporters were arrested and video of Al Jazeera crews sprinting from tear gas went viral. On Aug. 14, Missouri State Police Captain Ron Johnson took charge of the situation, walking with protesters, talking them down, leading to the quietest night since the shooting.
On Aug. 15, the video dropped, and in a spectacularly clumsy fashion—the police put it out, then sowed confusion about whether this was the reason Brown came into deadly contact with an officer. (It wasn't.) Anyone who paid attention to George Zimmerman's trial in the killing of Trayvon Martin could remember how the dead teen was portrayed as an up-to-no-good "no limit" thug, and that this helped Zimmerman got off. And—wonder of wonders, the calm was shattered on the night of Aug. 15. The state of emergency was declared the very next day. We'll simply never know if, had the police held off on the video (until, say, a trial), the calm of Thursday night could have spread. Nixon will never know, either. You can see why he's angry.
Programming note: I am trying to finish my book about progressive rock, so this blog won't be updated at the usual pace. Last time I went on leave, Eric Cantor lost his primary; this time, the leave that was scheduled to begin last Wednesday was waylaid by the Ferguson story. Oh, I'm not complaining, just explaining why I won't be chasing every detail from Missouri. (In other words I'll be covering it as much as FiveThirtyEight.)