Marion Barry Says Rob Ford Is "Making a Fool of Himself"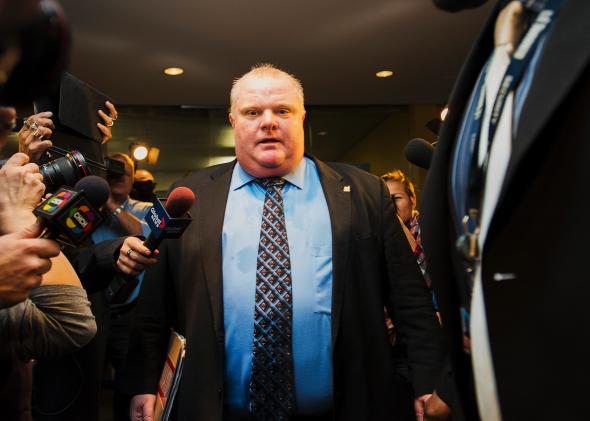 The latest edition of my interview podcast was taped at D.C.'s Carolina Kitchen, with a guest who can eat wherever he likes in this city: Marion Barry. The four-term mayor and third-term councilman (he has been easily re-elected since he made a 2004 comeback to represent the city's poorest ward) has just published a memoir, and we used that as the starting point for a discussion of gentrification, drugs, crime, and politics.
We also talked about Rob Ford. Sorry, but I couldn't resist. Ford is still running for re-election in Toronto, and he's become a kind of laughingstock, but it struck me that the coverage of Barry after his 1990 arrest (during an FBI sting operation) was so much less forgiving, more outraged—darker—then what greeted Ford.
"He's not connected to me," Barry said. "He doesn't have my historical record of achievement. My record is so far better. As far as his use of drugs and alchohol, he's making a fool of himself and"—Barry shook his head*—"he's making a fool of himself. He shouldn't use the fact of him using drugs as an excuse for being a fool. I sympathize with him. I know what he's going through. But I don't agree with what he's doing."
Barry's latest comments about Ford have been picked up by Canada's Globe and Mail. He's hard to dispute, as Ford looks set to be a one-term mayor with a legacy limited to some labor contract negotiations, transport funds diverted from a rail extension, and ... well, the crack. But Barry ruled D.C. for 18 years, and you can't talk about either the diverse public workforce (and black middle class) or about the damage of the crack wars without considering Barry. I was struck by how the mayor actually brought up his 1990 arrest before I did.
*It's hard to hear that on the tape.