Spin a 3-D Representation of a Beautiful 17th-Century Celestial Globe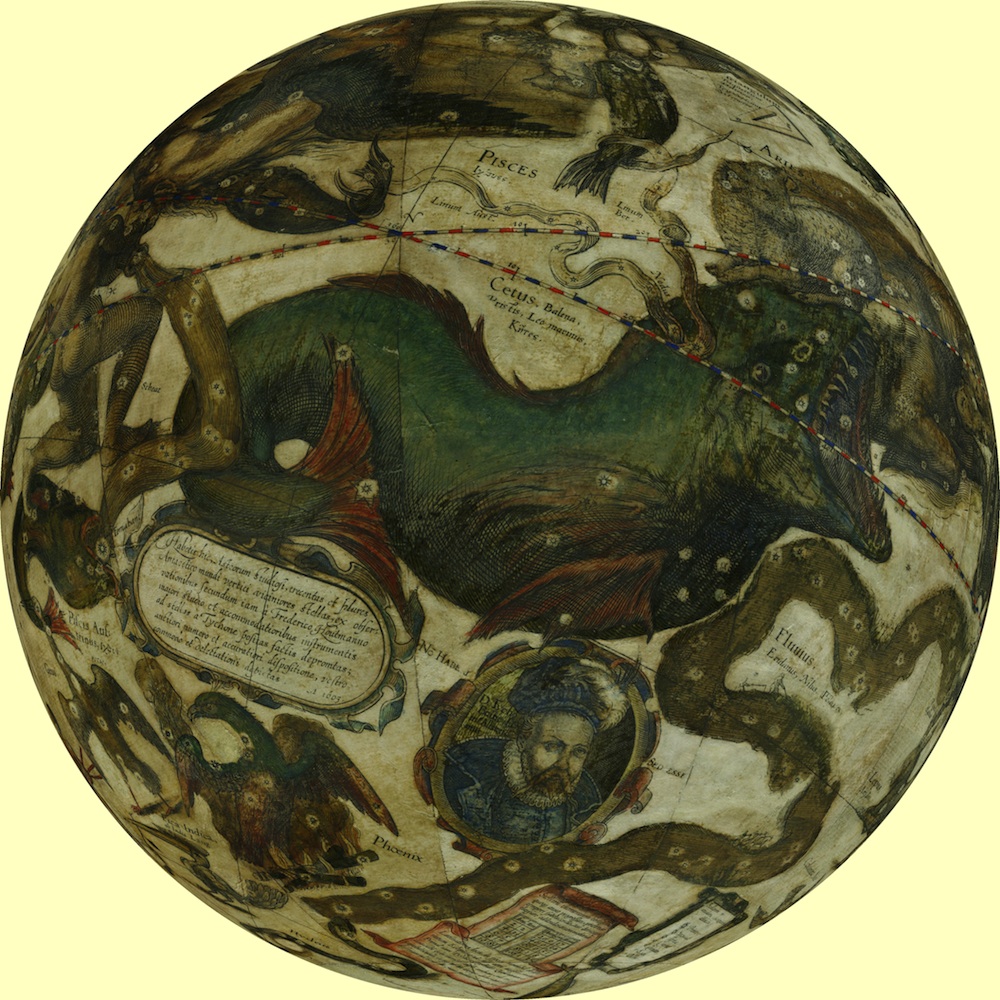 Click and drag to rotate.
Fullscreen
Animation courtesy of the Virtual Globes Museum. Globe kept in the Slovakian National Archives, Bratislava.
The Vault is Slate's history blog. Like us on Facebook, follow us on Twitter @slatevault, and find us on Tumblr. Find out more about what this space is all about here.
The 1603 Sphaera stellifera globe by Willem Janszoon Blaeu showcases cutting-edge 17th-century astronomy in three dimensions. Designed by printmaker Jan Saenredam, it is also stunningly beautiful. It features highly accurate observations of the Northern Hemisphere, and pictures the newly discovered constellations of the Southern sky, offering them as heavenly proof of the success of the Dutch colonial enterprise.
To train in stargazing, the publisher and mapmaker Blaeu traveled to the island of Hven in Denmark, where he studied with Tycho Brahe, the preeminent astronomer of the period, whose detailed observations made possible Johannes Kepler's discovery of the three laws of planetary motion. This globe relies on Tycho's star catalogues to show the positions of the Northern stars, and it also prominently portrays the Danish astronomer.
For the positions of constellations of Southern stars, Blaeu used the observations of Pieter Dircksz Keyser and Frederick de Houtman, who sailed off to the island of Java with the first Dutch expedition to Southeast Asia in 1595. This voyage laid the foundations of Dutch colonial rule. It is no accident, then, that on this globe the constellation Argo takes the shape of a seafaring ship under the Dutch flag.
The other Southern constellations, already pictured on another globe a few years earlier, bear testimony to the Age of Discoveries, too. Besides performing astronomical observations, Dutch sailors brought exotic animals back to the Netherlands. To organize the newly discovered stars into constellations, Dutch globemakers relied on the inspiration these animals provided. For them, the exploration of distant lands and the charting of the skies were part of the same global enterprise.
The bird of paradise (Apous indica), visible at the bottom of the globe, was an especially good pick for astronomical illustration because it was then believed to be footless, and to fly constantly, like the stars. The same applies to the exotic chameleon, which was rumored to feed only on air.