A Kiowa Warrior's Drawings of Captivity and Assimilation, 1877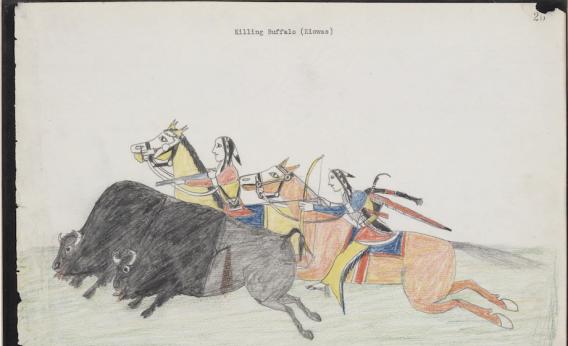 The Vault is Slate's new history blog. Like us on Facebook; follow us on Twitter @slatevault; find us on Tumblr. Find out more about what this space is all about here.
These drawings are by Etahdleuh Doanmoe, a Kiowa man who was captured by the U.S. Army in Oklahoma in 1875 and was one of a group of leaders who were selected for removal in order to crush the Southern Plains tribes' resistance to confinement to reservations. Doanmoe and seventy-one other Arapaho, Cheyenne, Kiowa, Caddo, and Comanche Indians were taken to St. Augustine, Fla., where they were imprisoned at Fort Marion for three years. The men were taught English, dressed in Western clothes, and taught to forsake their former traditions.
The Doanmoe drawings, now held in part at Yale's Beinecke Rare Book & Manuscript Library and in part at Dickinson College, chronicle this journey in a style at once spare and detailed. The typed captions above the drawings come from Richard Henry Pratt, the Army officer who was in charge of the Indians at Fort Marion, and who later founded the Carlisle Indian Industrial School. Taken together, the images and their captions represent two perspectives: that of a captive forced to move from one world to another, and that of the man who was trying to transform him.
The drawings are part of a larger genre called ledger art, which Plains tribes practiced during the second half of the nineteenth century. The tribes once painted stories about significant tribal and personal events on buffalo hide. With the diminishment of buffalo herds and the tribes' restriction to reservations, artists began to paint on sheets of ledger paper. (You can browse through other examples of these ledgers here.)
According to Kathleen McWeeney, whose extensive history of the Doanmoe sketches can be found here, Pratt initially disapproved of the captives' desire to make ledger art while at Ft. Marion. Eventually, he decided to permit the practice, but brought in Western artists to teach the prisoners perspective and composition. He also asked that they forsake tribal symbols. Despite this, the Doanmoe drawings contain a few images of banquets and buffalo hunts.
1 2 3 4 5 6 7 8 9 10 11 12