Who Won the Women's World Cup of Arm-Folding?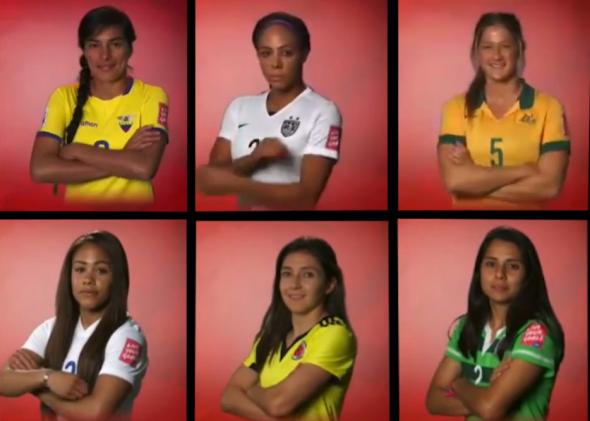 Watching the 2015 Women's World Cup has been an exciting ride. Viewers got to cheer for more teams than have competed than ever before, including eight debutants. We've watched the world's best female footballers score masterful goals (including two games featuring multiple hat tricks). And we've witnessed, once again, the repeated triumph of hundreds of elite athletes turning 90 degrees while folding their arms.
As with their male counterparts last year, the arm-fold is the means by which Women's World Cup players introduce themselves to the estimated 1 billion people watching around the globe. It's the arm-fold that determines whether a player comes across as the life of the party (like Ecuador's Denise Pesantes) or as someone who's dying to get away from a conversation with a mansplainer (like Japan's Saori Ariyoshi).
For a gesture that takes literally two seconds, a decent arm-fold requires surprisingly precise timing. There's a fine line between folding your arms too quickly (like Mexico's Kenti Robles), folding your arms too slowly (like Nigeria's Asisat Oshoala), and folding your arms way too slowly (like Cameroon's Raissa Feudjio).
In the men's World Cup, my colleague Dan Kois wrote last year, "The primary issue is where your hands should go." This remains an open question in this year's World Cup. Wayward fingers undermine the integrity of the pose for Josée Bélanger of Canada, peeking out from behind her tricep for a distracting second. And Australian Stephanie Catley's attempt to adjust her hands underneath her arms makes her arms look oddly jiggly, as if made not of rock-hard muscle but of Jell-O.
So the key, clearly, is to be decisive about finger and hand placement. But this still leaves players with lots of choices. Choices like cradling your fists inside your elbows (à la Canada's Adriana Leon), or shoving your hands, Mary Katherine Gallagher-like, into your armpits (as does Angela Clavijo of Colombia). You could show off all your fingers, like Dzsenifer Marozsán of Germany, or you could present an alluring mystery: Does Tan Ruyin of China even have fingers?!
Even when you nail the technical aspects—timing, sequence, limb placement—there remains a question of attitude. Do you want to fold your arms in a friendly manner, or do you want to use the opportunity to show off what a badass you are? A majority of players in this year's tournament elect to smile, like Brazil's Monica, who beams with the satisfaction of a teenager in an after-school special who's just dissuaded her best friend from trying drugs. But there's a fine line between Monica's confident smile and the forced, desperate grin of her teammate Luciana, who looks as though she's posing for an elementary school portrait.
To avoid ambiguous signals, some players keep their faces stern. In the best cases, serious expressions convey confidence, competence, and a hint of intimidation, like Wendie Renard of France.
But this tactic can also have unfortunate results, as with Norwegian Ingrid Moe Wold, who looks like a robot learning how to act human, or American Hope Solo, who is flat-out terrifying.
To be fair, not all arm-folding mishaps are a result of players' actions. England captain Steph Houghton's arm-fold is most memorable for the cameraperson's apparent failure to adjust the angle of the camera to fit her height.
So who successfully navigates the rocky shoals of turning to the left and folding one's arms? American captain Abby Wambach's experience in the international arena shows in her arm-fold, which is pure, unruffled swagger. And newcomer Cathy Bou Ndjouh of Cameroon leaves no doubts as to her professionalism with her arm-fold, which is powerful and poised.
Some players let their arm-fold convey their sheer joy at being at the World Cup—players like Dutch skipper Mandy van den Berg, who radiates a sense of accomplishment, and Colombian defender Nataly Arias, who shows off a hundred-watt smile worthy of a homecoming queen.
I'm partial to the pithy, self-assured arm-fold of Ji Soyun of South Korea, who resembles nothing so much as a 1950s television superhero.
But even better than these fine examples is the sly, conspiratorial arm-fold of Costa Rica captain Shirley Cruz. Cruz turns and folds her arms as though to say, "You and I both know this is silly, but this is the biggest women's sporting event in the world. Let's try to make the most of it, shall we?" Shirley Cruz wins the Women's World Cup of Arm-Folding.