Trump, Social Media Genius, Tweets at Rando Theresa May Account Who's Not Prime Minister of Anything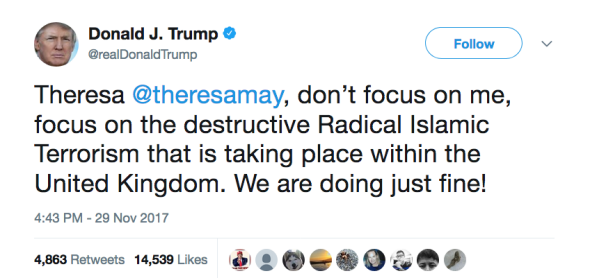 On Wednesday morning, President Donald Trump woke up and retweeted a string of virulently anti-Muslim propaganda videos of questionable origin and veracity posted by a far right hate group in the U.K. It was a move so malicious in its intent to incite it drew instant criticism from many corners, particularly in the U.K., including the prime minister herself. "It is wrong for the president to have done this," Prime Minister Theresa May said in a statement.
Donald Trump does not like to be reprimanded, so hours later he pecked out a little ditty (above) to the leader of a longstanding American ally. The President of the United States went so far as to attempt to tag the prime minister's Twitter handle to add some extra hot sauce to the sick burn he was surely hoping would detonate her mentions. Because the President of the United States is Donald Trump: 1) this is a real thing that actually happened; and 2) he tagged a totally random Twitter account of Theresa May Scrivener, who is not the prime minister of anything. Scrivener's account has only tweeted nine times and is protected likely because this is not her first rodeo when it comes to misdirected prime ministerial hate-tweets.
Several minutes later, President Trump appeared to realize he had fired on an innocent civilian, deleted the first tweet, and then fired off another beaut before bed.

.@Theresa_May, don't focus on me, focus on the destructive Radical Islamic Terrorism that is taking place within the United Kingdom. We are doing just fine!

— Donald J. Trump (@realDonaldTrump) November 30, 2017
Perhaps our biggest concern should be that when Donald Trump shoots nuclear missiles at Kim Jong-un, he hits Lil' Kim instead. Or Kim Kardashian. Or even Rakim. Maybe all the Kims should be worried.