Trump Retweets Series of Horrific Anti-Muslim Videos Posted by Far-Right British Group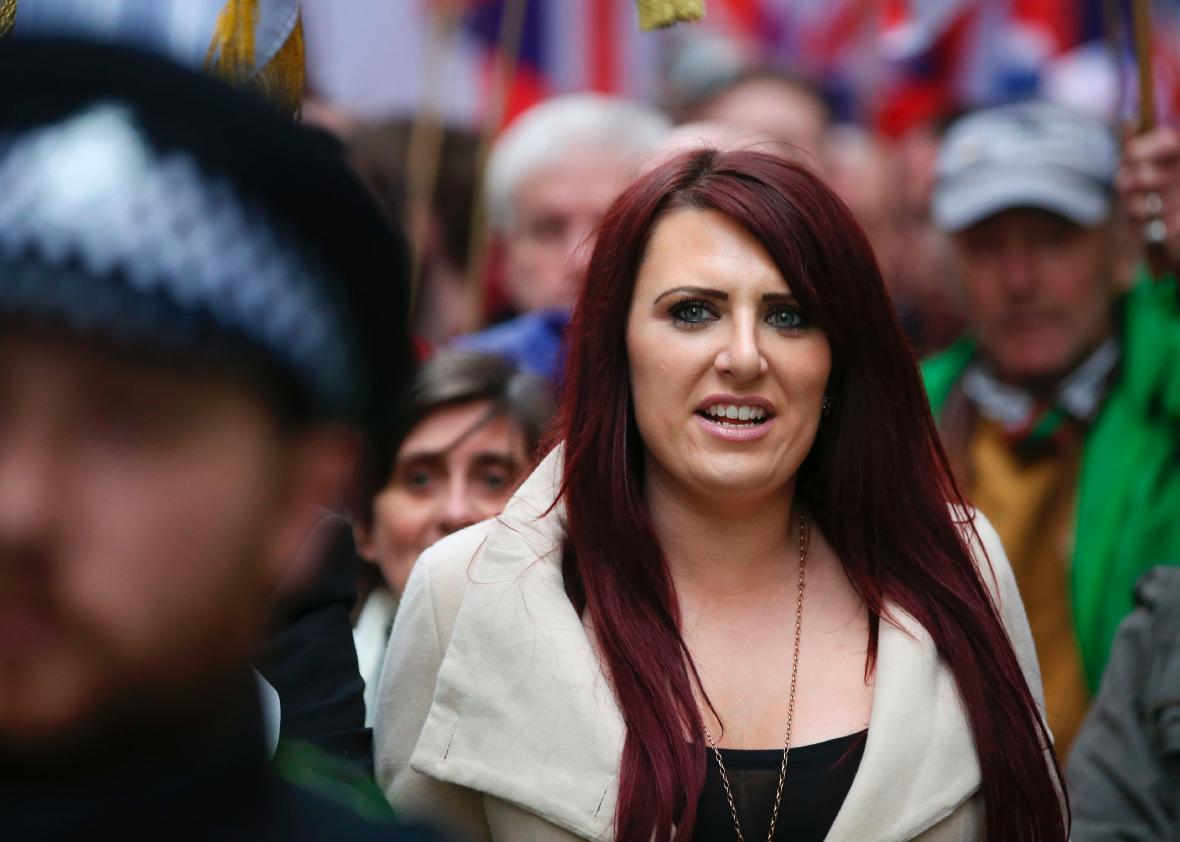 On Wednesday morning, President Trump retweeted three anti-Muslim videos originally tweeted by the deputy leader of the far-right British group Britain First, sparking condemnation among some in the U.K.'s parliament.
The videos, which Trump retweeted hours apart, show what it calls examples of Muslim violence. The first retweeted video is captioned, "Muslim migrant beats up Dutch boy on crutches!" and shows a 35-second-long video of a young man punching and kicking another young man on crutches.
According to BuzzFeed, the clip went viral in May and led to the arrest of a 16-year-old boy. The sister website of the one that posted the video has claimed no migrants were involved in the incident.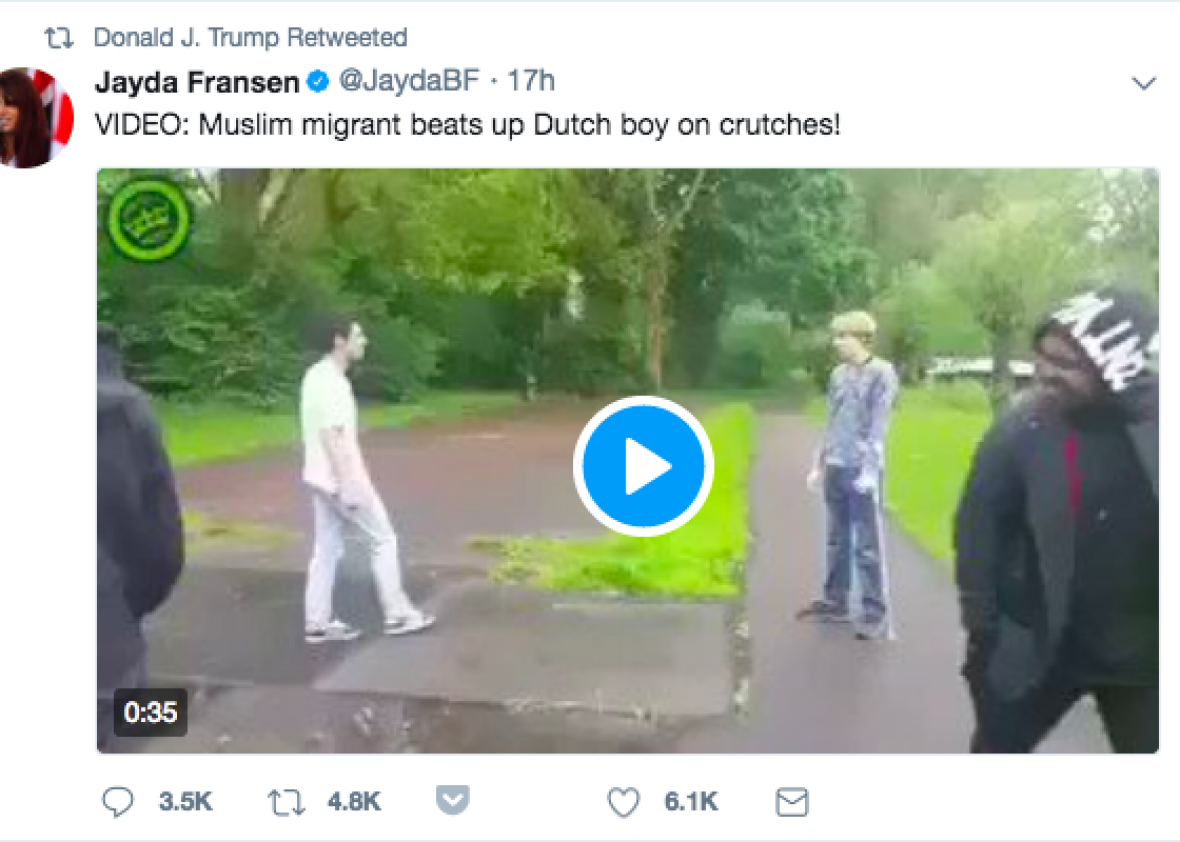 The second video, captioned "Muslim Destroys a Statue of Virgin Mary!," shows a calm-looking man pick up a statue and drop it on the ground.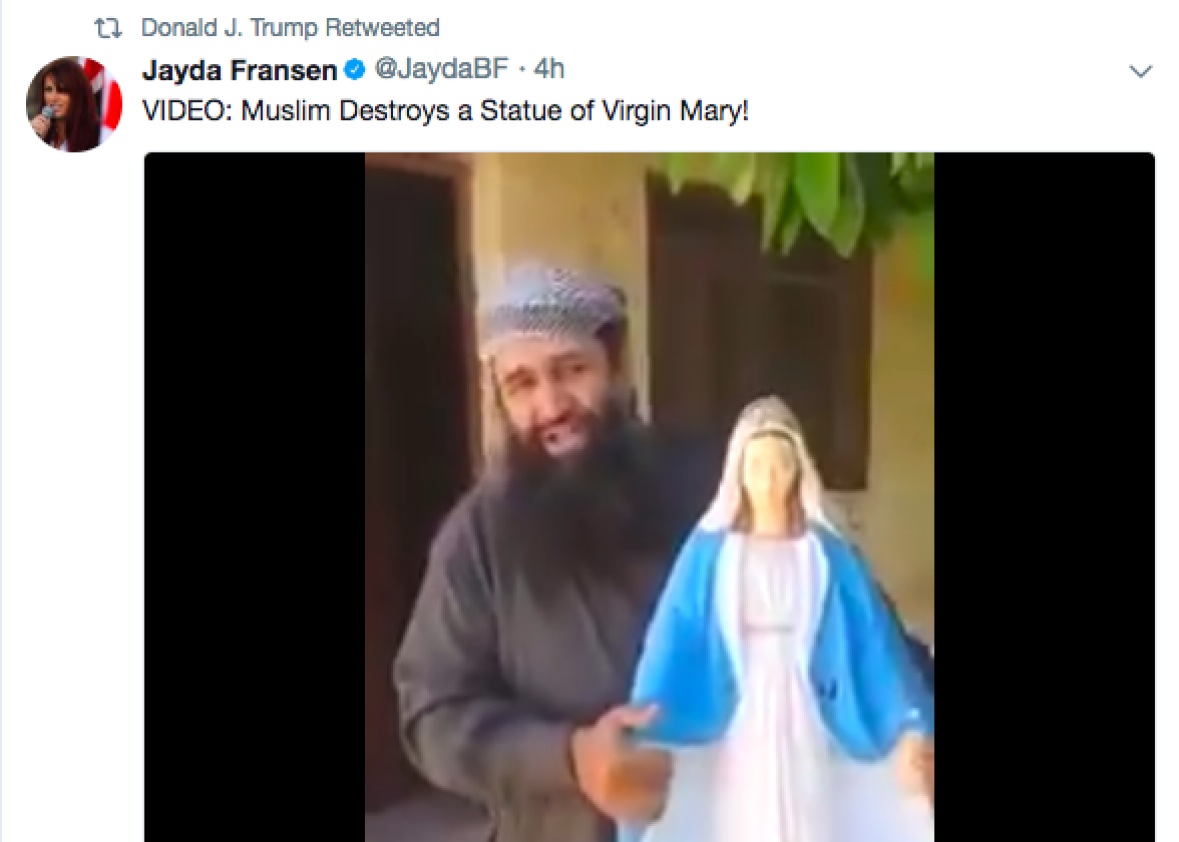 The third, and most disturbing, video is captioned "Islamist mob pushes teenage boy off roof and beats him to death!" In it, in a relatively chaotic scene, a young man is pushed off the top of a building to the sound of a woman screaming, though it's hard to tell exactly what is happening. It does appear that after the man falls, a small crowd gathers around to kick him.
According to BuzzFeed, the clip came from the 2013 overthrow of Egyptian President Mohamed Morsi, and the man who pushed the young man was found guilty of murder and hanged.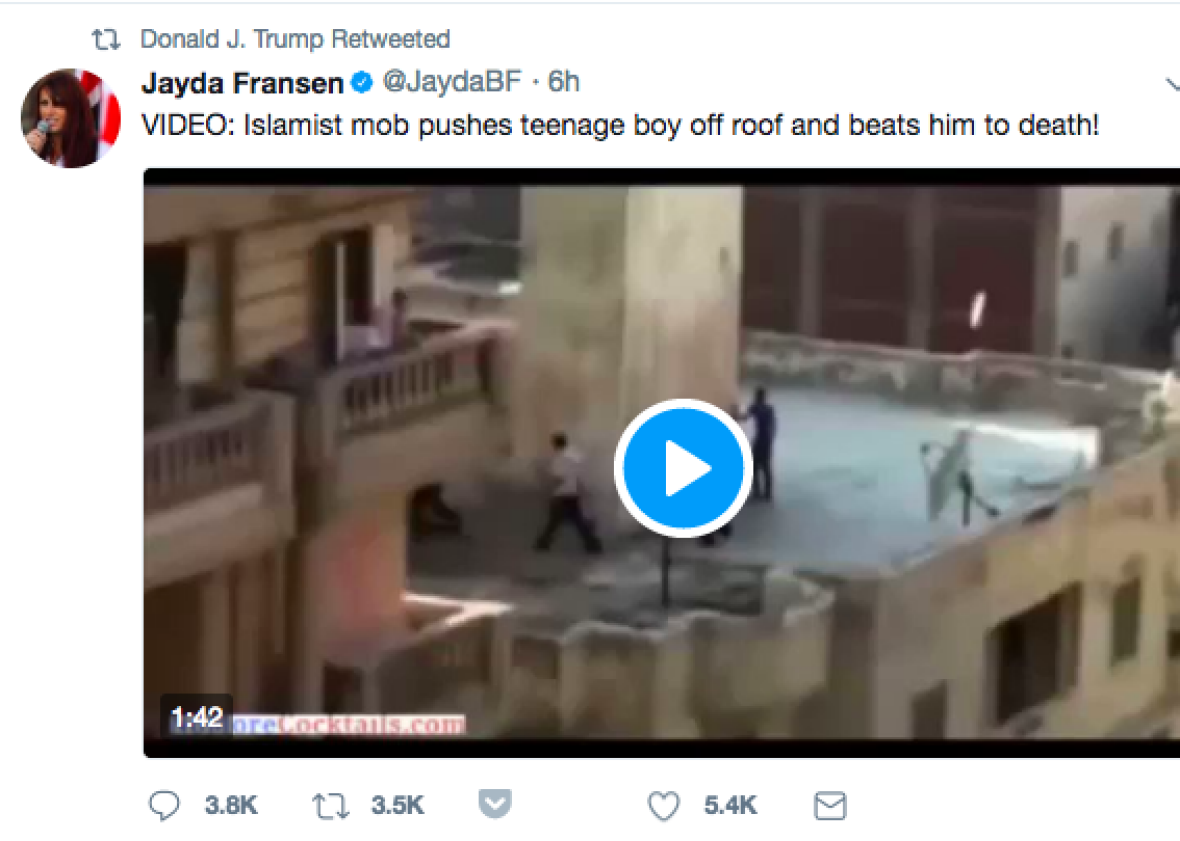 Jayda Fransen, the deputy leader of Britain First, appeared pleased with the president's retweets, as she subsequently tweeted out links to news articles about them. Fransen, who was elected deputy leader of the extremist group in 2014, was arrested earlier this month for a speech she gave in August for a group called "Northern Ireland Against Terrorism." Fransen was also found guilty of religiously aggravated harassment a year ago after she shouted at a woman wearing a hijab during what her group called a "Christian Patrol."
Many were quick to decry Trump's retweets. Even Paul Joseph Watson, an InfoWars editor, wrote that it was "not great optics."
Yeah, someone might want to tell whoever is running Trump's Twitter account this morning that retweeting Britain First is not great optics. 🤔

— Paul Joseph Watson (@PrisonPlanet) November 29, 2017
Brendan Cox, the husband of British Labour MP Jo Cox, who was murdered in 2016 by a far-right extremist, tweeted that Trump was trying to spread hate beyond the United States and legitimize Britain's far-right groups:
Trump has legitimised the far right in his own country, now he's trying to do it in ours. Spreading hatred has consequences & the President should be ashamed of himself.

— Brendan Cox (@MrBrendanCox) November 29, 2017
In the House of Commons, Labour MPs Yvette Cooper and Stephen Doughty called for the British government to condemn Trump's actions, according to the Independent.
Cdnt have imagined there was anything left Trump could do to shock me. But promoting views of woman convicted of hate crime from far right hate group is appalling. UK Gov't must condemn https://t.co/1Er5cqsjFN

— Yvette Cooper (@YvetteCooperMP) November 29, 2017
Just raised point of order in Commons about the shocking #Trump tweets with Home Secretary present to hear - v serious concerns given content AND ongoing criminal proceedings. Serious questions too for @Twitter to answer.

— Stephen Doughty (@SDoughtyMP) November 29, 2017
Labour MP Chuka Umunna also called for Trump's state visit invitation to be withdrawn.
According to the Independent, several members of the House of Commons shouted "disgraceful" when Trump's retweets were mentioned.
Update, Wednesday, Nov. 29, 2017, at 12:05 p.m.: Later Wednesday, the spokesperson for Prime Minister Theresa May released a statement from May's office condemning Trump's actions:
Britain First seeks to divide communities by their use of hateful narratives that peddle lies and stoke tensions. They cause anxiety to law-abiding people.

British people overwhelmingly reject the prejudiced rhetoric of the far right which is the antithesis of the values this country represents, decency, tolerance and respect. It is wrong for the president to have done this.