Zimbabwe's Mugabe Ousted by Own Political Party, Given Monday Deadline to Resign Presidency or Face Impeachment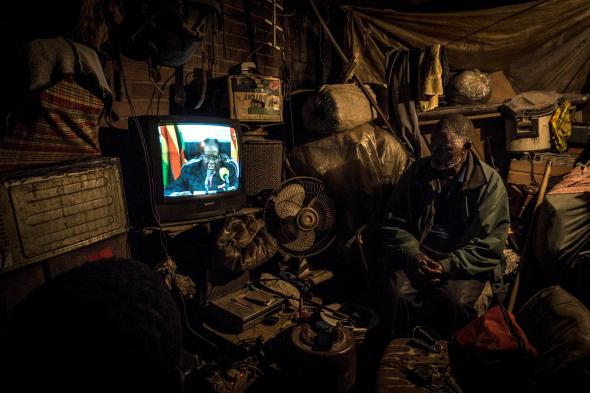 Update, 5:30 p.m.: Appearing set to resign the presidency of Zimbabwe, Robert Mugabe addressed the nation on state-TV Sunday night in what was expected to be his official goodbye. That appears to be what those in his party believed after ousting him from the party earlier in the day. But in his meandering prepared remarks, the embattled leader did not announce his resignation, instead hinting the he would continue on. Mugabe appears to have double-crossed the military and political leaders who say they were offering the longtime leader the opportunity to resign rather than face impeachment. The resignation did not materialize and the political drama in Harare continues, at least for one more day. It's unclear how Mugabe could feasibly forge a path to stay in power, but the 93-year-old, through cunning and ruthlessness, has managed to keep his perch atop Zimbabwe for 37 years.
Update, 12:00 p.m.: Zimbabwean President Robert Mugabe has reportedly agreed to step down.

Original Post: Robert Mugabe's own political party, Zanu-PF, ousted the longtime Zimbabwean president from the party leadership Sunday and appointed former-Vice President Emmerson Mnangagwa to replace him. Mnangagwa was, himself, fired by Mugabe two weeks ago in an apparent move to clear a path for his wife to assume leadership of the party en route to the presidency. Mugabe's wife, Grace Mugabe, along with a handful of Mugabe allies were also expelled from the party.
The scene at the party's headquarters after the vote to remove Mugabe:
After tens of thousands took to the streets in Harare on Saturday in support of Mugabe's removal, on Sunday, the Zanu-PF leadership not only dealt what appears to be a final death blow to Mugabe's hopes of staying in power, it began to squeeze the one-time national hero, putting a Monday morning deadline on his voluntary resignation from the presidency, a title which he still, technically, holds on to. If Mugabe refuses to go, the party leadership will vote to impeach the president as soon as Tuesday, bringing an end to his calamitous 37-year reign as the leader of the country, despite rising to power as an independence hero.
The move leaves the 93-year-old Mugabe politically isolated after being put under house arrest by the country's military leadership on Wednesday. Since his arrest, Mugabe has reportedly resisted stepping aside, as negotiations continued for his peaceful departure. Elections are scheduled to be held in 2018.