Tens of Thousands Take to the Streets in Zimbabwe Demanding an End to Robert Mugabe's Reign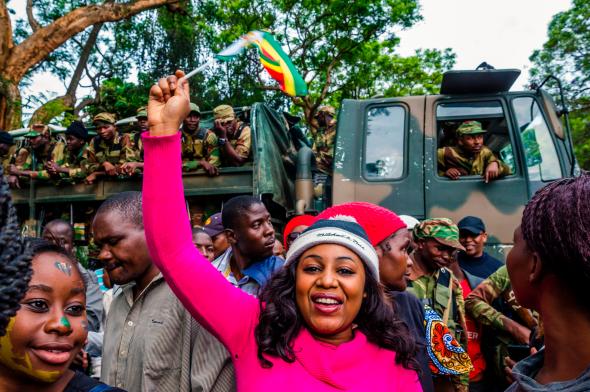 After a tumultuous week in Zimbabwe that saw the arrest of longtime autocrat Robert Mugabe, tens of thousands took to the streets in Harare Saturday demanding the 93-year-old step aside. Exuberant protesters marched alongside soldiers in tanks, some chanting slogans like "Enough is enough" and others carrying signs reading "Mugabe must go." The public protest amounts to an extraordinary show of support for the military ouster of the often-repressived leader and further evidence that Mugabe's days in office are numbered despite his reported resistance to relinquishing power.
The march was broadcast on state-TV, something that would have been unthinkable just one week ago, as protesters symbolically gave speeches at Zimbabwe Grounds, the very same venue where Zimbabweans cheered on Mugabe upon his return from exile in 1980 to take the reins of the country following decades of white minority rule. This his how Brezhnev Malaba, an assistant editor at The Zimbabwe Independent, described the day's events:
There are decades in which nothing happens; and then, suddenly, there are days in which whole decades happen. Zimbabwe is at that moment. Astonishing scenes here in Harare!

— Brezh Malaba (@BrezhMalaba) November 18, 2017
Soldiers are being feted as heroes on the streets of Harare. Euphoric scenes. People are standing next to army tanks and taking selfies. I've seen chaps excitedly polishing soldiers' boots in a gesture of gratitude. This is unprecedented. Historic!

— Brezh Malaba (@BrezhMalaba) November 18, 2017
On Friday, Mugabe lost the support of his own party, ZANU-PF, with a majority of its leaders supporting his removal from office. According to the Associated Press, the party plans on initiating a recall of Mugabe as early as Sunday. Mugabe is currently being held at the official presidential residence after his arrest following his attempt to clear the path to power for his wife, Grace Mugabe. The detained leader was allowed to attend a college graduation ceremony Friday, but has not made any other public appearances since his arrest. Military leaders are currently negotiating Mugabe's exit and an end to his 37-year rule that started brightly with Mugabe as a transformative figure, but ultimately devolved into authoritarianism and looting of state resources while the country's economy tanked and his people suffered.