Mitch McConnell Calls on Roy Moore to Drop Out of Alabama Senate Race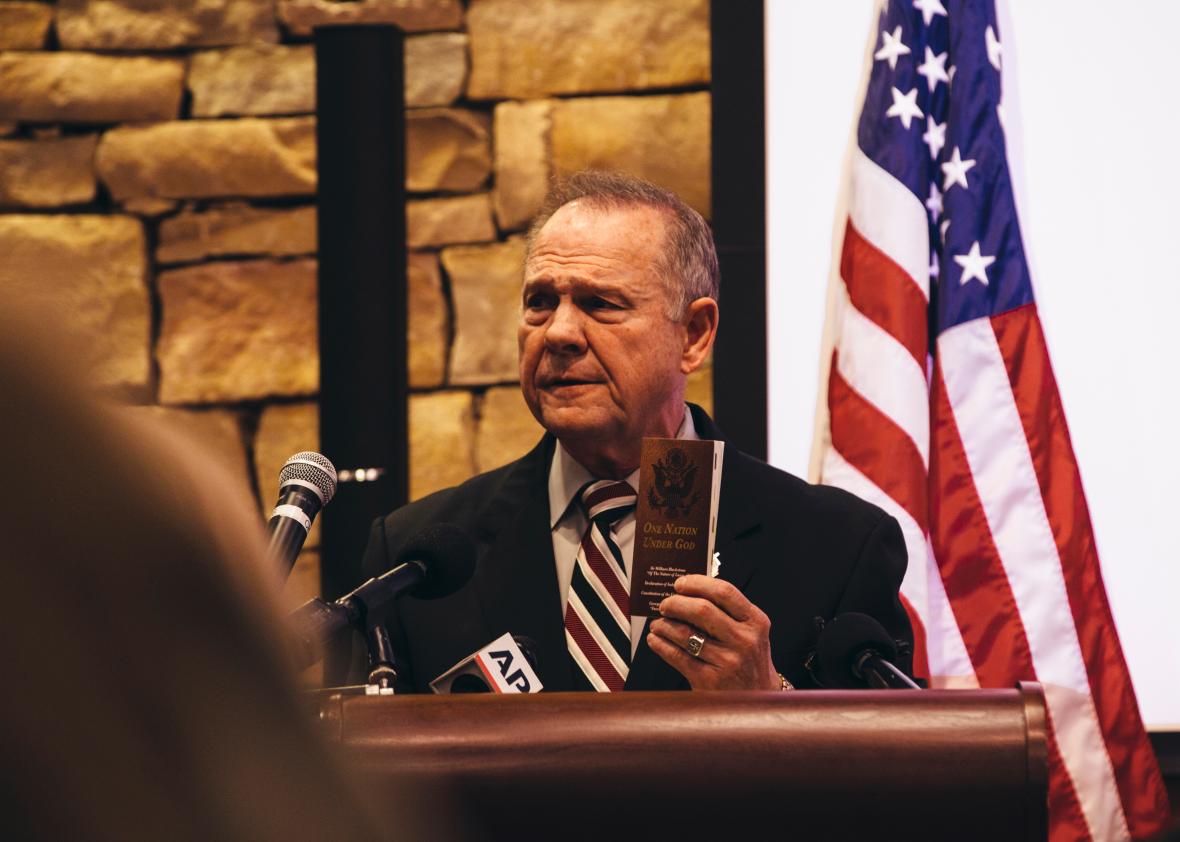 Senate Majority Leader Mitch McConnell has called on Senate candidate Roy Moore to leave the race, telling a Kentucky audience Monday, "I think he should step aside."
McConnell, who had previously called on Moore to withdraw from the Alabama senate election if the allegations of a sexual encounter with an underage girl proved true, said at the event, "I believe the women."
Moore responded to McConnell on Twitter by saying the Senate Majority Leader should instead be the one to step aside.
Moore has been under fire after a Washington Post story published Thursday reported the then–32-year-old Moore had made sexual advances toward a 14-year-old girl, touching her over her bra and underwear and guiding her hand to touch him over his underwear. Three other women told the Post Moore had pursued them when they were between 16 and 18 and he was in his 30s. Moore has denied the allegations, attacked the Post as "fake news," and turned to Breitbart to undercut the allegations, but the fallout still seems to have damaged his campaign enough to make the race competitive.
The GOP response to the news has been mixed, but many senators, including Richard Shelby of Alabama, and the White House have said he should step aside "if true." A couple senators—notably, John McCain—have said that he should go ahead and step aside now.
Others have sprung to Moore's defense, both to cast doubt on and downplay the allegations. Alabama state auditor Jim Zeigler argued Moore's actions were not immoral because "Mary was a teenager and Joseph was an adult carpenter. They became parents of Jesus."
On Monday it was also announced that a new accuser would be holding a press conference to discuss an allegation of being sexually assaulted as a minor.
It's not clear what effect a call from GOP leadership to step down will have on Moore's campaign. Moore ran as a Steve Bannon–supported outsider candidate, defeating the Trump- and Republican leadership–backed Luther Strange. McConnell is not considered a hugely popular figure in Alabama, and some have argued his statement will not damage Moore's standing in the state.
Alabama Gov. Kay Ivey has said she will not postpone the special election, and so far Moore has said he will stay in the race. If he were to drop out, his name would remain on the ballot per Alabama law, and if he won the most votes, his victory would not be certified. McConnell has said Republicans are looking for a write-in option for another Republican candidate.
Update, Nov. 13, 1:03 p.m.: This post has been updated with Moore's response.