Democrats Turn the Tables on Trump. Some of the Wins Were Big, Others Symbolic and Gratifying.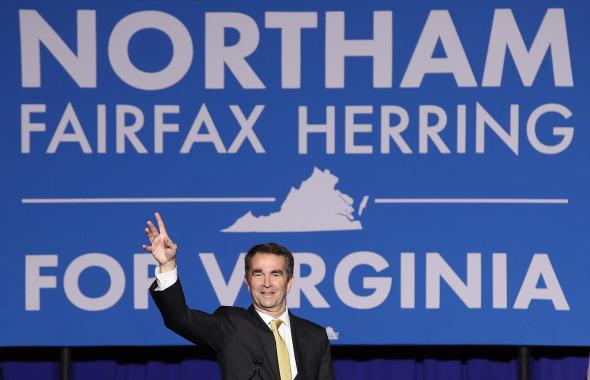 For a full year, to the day, there hasn't been much for Democrats to feel good about. Following a mind-melting presidential election, there was palpable anger, worry, and resolve that led to reassuring mass mobilizations, but not the ballot box. That would have to wait. When it came time to put it to voters early in the Trump administration, there were a handful of narrow-loss moral victories in special elections deep in GOP territory—Kansas, Montana, Georgia, and South Carolina—and some state house pickups but, while theoretically promising, those still felt more like an apparition than a trend you could hold on to. With Trump still yammering and plundering away in office while the Republican candidate in the Virginia governor's race managed to revive his poll numbers by embracing the president's rhetoric, it started to feel like a revival would never come.
The off-cycle gubernatorial races in Virginia and New Jersey, along with state house races and ballot referendums, offered up the first true test of the Trump presidency, and it would be impossible to read them as anything but a stinging rebuke of the Trump presidency so far. Democratic Lt. Governor Ralph Northam's win in the Virginia governor's race, which looks likely to be by 9 points, shows the potential of a Democratic resurgence. Current Democratic Gov. Terry McAuliffe won the state by a couple of points in 2013 and the following year, popular Sen. Mark Warner narrowly eked out a win by a single point. In New Jersey, a state that has become increasingly competitive in presidential cycles, Democratic candidate Phil Murphy's victory looks to be by a whopping double-digit margin after eight years of Republican Chris Christie in office.
These wins are important not only because of their size, which indicates that a Trump-induced Democratic swing appears real, but also in how the campaigns were run. The candidates ran not just as anti-Trump, but on issues that were the antithesis of Trump. In Virginia, Northam was buoyed by a slate of committed Democratic candidates determined to counter Trump at every turn, even in their own neighborhoods. In New Jersey, Murphy backed raising the minimum wage to $15, legalizing marijuana, and tightening gun laws. In Maine, a ballot referendum on whether to expand Medicaid under the Affordable Care Act passed with nearly 60 percent of the vote, offering another rebuke of Republican leadership by a purple state.
In the down ballot Virginia races the potential sea change was even more pronounced. Democrats won the attorney general and lieutenant governor races, the two other statewide offices up for grabs, and were poised to win back the state house, despite an overwhelming GOP majority—66 seats to 34—heading into the night.
VA DELEGATES COUNT: 48D, 47R. 5 seats to decide control:#HD27 (Chesterfield): Del. Robinson (R) up by 129 votes.#HD28 (F'burg): Thomas (R) up by 86.#HD40 (Fairfax): Tanner (D) up by 68.#HD68 (Richmond): Adams (D) up by 316.#HD94 (Newport News): Del. Yancey (R) up by 12.

— Dave Wasserman (@Redistrict) November 8, 2017
Among the state legislature candidates, many of whom were women, Danica Roem's defeat of incumbent Bob Marshall was particularly symbolic and gratifying. The 33-year-old transgender Democrat is the first openly transgender person in the country to be elected to and will be the first openly transgender person to serve in a state legislature.
How bad was it for the Virginia GOP?
Elsewhere, the news was also promising.
.@RobAstorino (R) has conceded the election for Westchester County executive to @GeorgeLatimer37 (D), per spokeswoman. Westchester is seen as a bellwether nationally — Dems ousted GOP incumbent by more than 10 points.

— Jimmy Vielkind (@JimmyVielkind) November 8, 2017
Is this the beginning of a Democratic revival that could decimate the Republican Party for its turn towards Trumpism? It's conceivable. It's too early to know what exactly happened and why, but after a year of horror it was a welcome reminder that the world is not completely crazy.