Today's Impeach-O-Meter: Tossing Paper Towels to Puerto Rico Hurricane Victims Is Fun, for Trump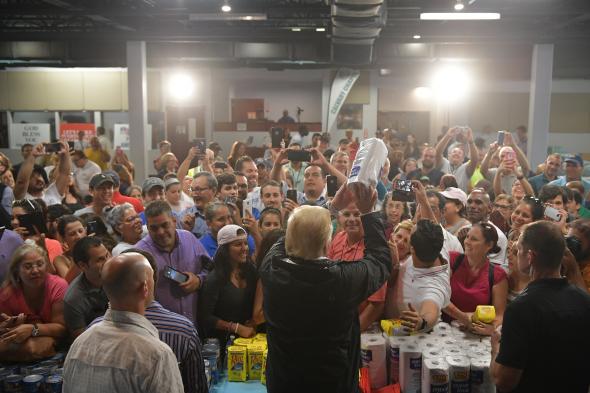 The Impeach-O-Meter is a wildly subjective and speculative daily estimate of the likelihood that Donald Trump leaves office before his term ends, whether by being impeached (and convicted) or by resigning under threat of same.
If you needed yet another example of President Trump's interest level in the damage done to Puerto Rico by Hurricane Maria, the president's visit to the beleaguered island Tuesday came rife with fodder. Trump has insisted not that the damage wasn't severe—"It's actually a much tougher situation [than Houston or Florida]"—but, more importantly, he's worked overtime to convince everyone he's doing a great job. On Tuesday, the president sauntered into the American territory's capital of San Juan two weeks after the hurricane first hit, and after a press event where he belittled the island on the brink—"I hate to tell you, Puerto Rico, but you've thrown our budget a little out of whack"—and did a little self promotion—"I think it's now acknowledged what a great job we've done"—he visited an English-speaking evangelical church outside the capital.
Everything about Trump's rhetoric and demeanor when it comes to Puerto Rico and the response to Maria has been reality-bending. Like much of Trump's presidency, the response has felt like an act put on by someone playing president, pretending he cares about people he clearly doesn't. Trump's most aggressive response has been his PR response, toeing the line that everyone's doing a great job. During Trump's 20-minute visit to the church, which has served as a collection and distribution point for supplies, the president's lack of seriousness of purpose shone through. While handing out supplies, Trump started playfully tossing rolls of paper towels like he was manning the T-shirt gun at halftime of the disaster. Every so often Trump stops trying to pretend to be president and acts like himself. The unvarnished Trump never disappoints—or always does, depending on your perspective.