Ted Cruz's Official Twitter Account Briefly Liked a Porn Tweet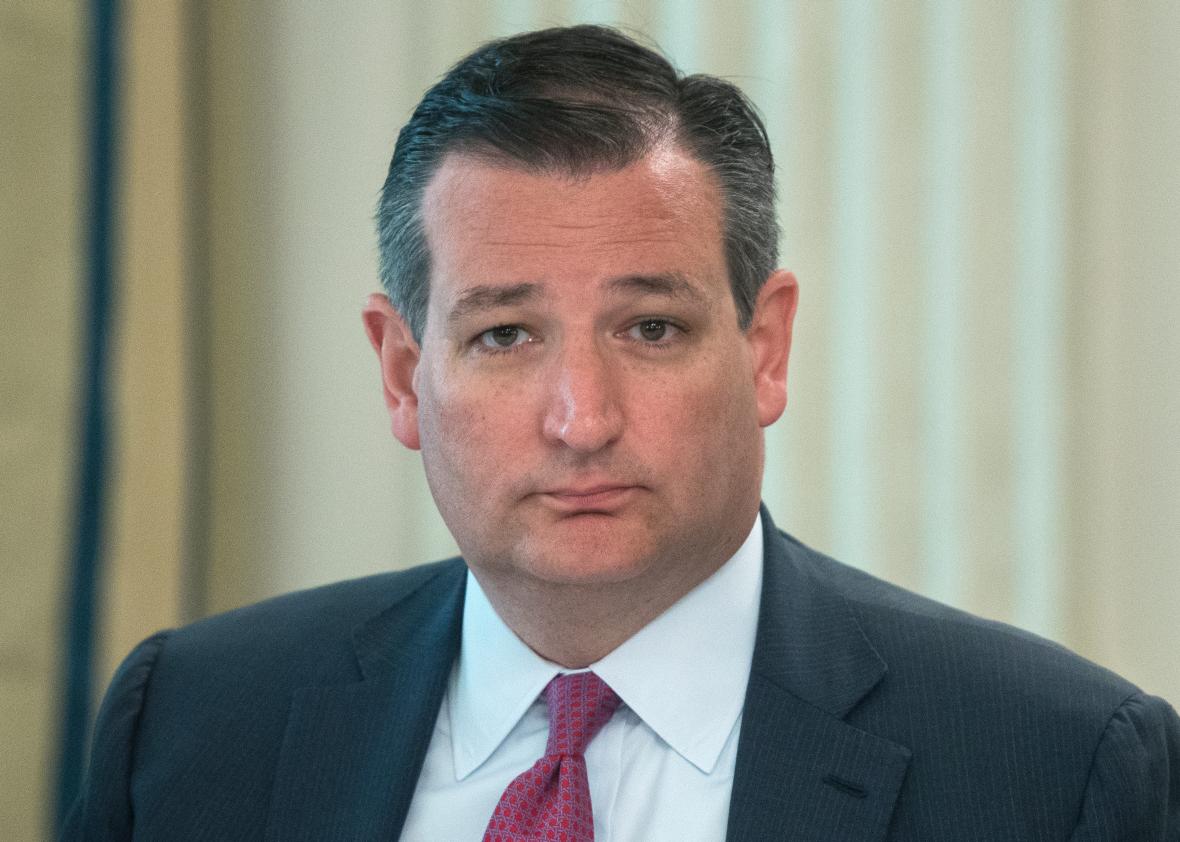 Sen. Ted Cruz, a family-values politician, was once involved in a court case involving a state ban of sex toys. Cruz, then Texas' solicitor general, argued that there is "no substantive due process right to stimulate one's genitals for non-medical purposes."
Monday night, Cruz's official Twitter account liked a tweet featuring a hardcore porn video. The "like" caused the very explicit tweet from the account @SexuallPosts to appear briefly on that portion of Cruz's profile. Around 9:40 p.m., Twitter users began to comment on the NSFW video, and they were reporting it still on his profile at 10:20 p.m.
Cruz's senior communications adviser tweeted at 11 p.m. to acknowledge the tweet and say that it had been removed. On Tuesday morning, Cruz had still not publicly explained or acknowledged the tweet. But around 11 a.m. Cruz joked to reporters, "if I had known that this would trend so quickly, perhaps we should have posted something like this back during the Indiana primary" and said, "there are a number of people on the team that have access to the account and it appears that someone inadvertently hit the like button."
The offensive tweet posted on @tedcruz account earlier has been removed by staff and reported to Twitter

— Catherine Frazier (@catblackfrazier) September 12, 2017
Twitter went crazy for it.
somewhere in texas mcmansion, ted cruz is sleeping, blissfully unaware of the maelstrom of horror that awaits him in the morning

— KRANG T. NELSON (@KrangTNelson) September 12, 2017
I wake up and the entire internet has set aside all differences to laugh at Ted Cruz

— Marcusu-kun (100%) (@Iceblade202) September 12, 2017
Ted Cruz liked porn on twitter and now "Zodiac Killer" is trending EVERYTHING IS A MEME

— diego (@DiegoAndrade21) September 12, 2017
SEND HELP I'm eating breakfast with my elderly next door neighbors and the Ted Cruz tweet just came up on Morning Joe in the background.

— Rachel Hawley (@smilingmantaray) September 12, 2017
Cruz's outspokenly anti-Cruz college roommate, the screenwriter and director Craig Mazin, clearly has his own ideas of Cruz's opinions about his stance on stimulating one's genitals for nonmedical purposes. This is his currently pinned tweet:
Ted Cruz thinks people don't have a right to "stimulate their genitals." I was his college roommate. This would be a new belief of his.

— Craig Mazin (@clmazin) April 13, 2016
And here's how he reacted to the Monday night Cruz news:
Now imagine Ted Cruz is doing this four feet below you in the bottom bunk bed.

Yes, my misery very much appreciates your company.

— Craig Mazin (@clmazin) September 12, 2017
Sadly, the fact that Ted Cruz jacks off to mediocre porn spam is the most human thing we can say about him. This is actually his high point.

— Craig Mazin (@clmazin) September 12, 2017
Suffice to say, Twitter thoroughly enjoyed the Cruz episode. But let's join Cruz's former roommate in hoping we never have to think about it again.
I never wanted this for any of you. I thought maybe I'd feel better if two or three people knew. Not six billion. That said? I FEEL BETTER.

— Craig Mazin (@clmazin) September 12, 2017
Update, Sept. 12, 2017: This post has been updated to include Cruz's comments to reporters.